Sahara India scraps sponsorship from Indian Cricket Team and Pune Warriors
New Delhi, Sat, 04 Feb 2012
NI Wire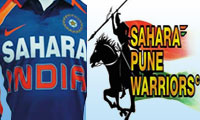 Giving a big blow to Board of Control for Cricket in India (BCCI) on the auction day for Indian Premier League (IPL) season five, Sahara India, the quitting official sponsor of Indian cricket team since last 11 years, today announced to withdraw the sponsorship from Indian team and IPL's Pune Warrior with immediate effect and asked to BCCI officials to make another arrangement for teams' sponsors.
Giving the reason of quitting, Sahara India has explained that BCCI has treated Sahara India 'unfriendly' and non-professionally.
In a letter to BCCI, Sahara India has said, "We really feel such one-sided emotional relationship cannot be dragged on any further. We are withdrawing from all cricket under the Board of Control for Cricket in India (BCCI)."
"It was an emotional decision for us to start this sponsorship but our emotions were never appreciated and many genuine situations were not given due consideration at all," stated Sahara India.
Describing its relationship with Team India, Sahara India said, "After an 11-year journey as sponsors, we can say with surety that cricket has become very rich. Many rich people are there to support cricket with a strong will to do so. So, with absolute peace of mind we can exit from cricket under the BCCI and with a heavy heart."
Accusing BCCI for not allowing to attach logo on Team India in two major tournament, Sahara India said, "In two major tournaments, the team had to play without the 'SAHARA' logo. Once during a World Cup tournament, Sahara's name was not allowed because there was a clash of our Airline with a South African airline. It was ICC's decision so we could realize that it was for no fault of BCCI and we also did not want the players to suffer. As per the rules, we were not supposed to pay sponsorship money for those matches but we still paid the players share of the amount in entirety. Sadly, we never found BCCI believing in genuine give and take."
Accusing BCCI's for its 'un-friendly' approach in IPL, Sahara India said, "Our first entry into IPL was thwarted in 2008 when we were disqualified, owing to a small technicality on the whims and fancies of BCCI. Yet our bid was not opened."
"Last year, Sahara entered the IPL on the basis of information in the media and everywhere else that 94 matches will be played among 10 teams. The bid price was accordingly calculated, but only 74 matches were played. We are still pursuing continuously with the BCCI to refund the extra bid money proportionately. It has been denied on the basis of strict rules."
"In the interest of the tournament, we repeatedly tried our best to pursue the BCCI for open auction of all players so that we achieve level playing field and all teams are equally balanced from the quality players' point of view. Again, as per BCCI's strict rules it was denied and again, we were deprived of natural justice. Twelve of the best players were retained by the existing teams then."
"The two new teams then requested for allowing us at least one extra foreign player but that too was denied, quoting rules."
However, Sahara India has announced to pay the players and team associates until BCCI does not seek new sponsors.
"BCCI will definitely take 2-4 months to get a new sponsor and we will continue paying the sponsorship money till then," said BCCI.
Stating about IPL players, Sahara said, "All other IPL team players, coaches and other such associates will definitely get their due this year, in case they do not get a chance to play."
BCCI has requested to pay full fee to Pune Warrier's former captain and Sahara India's marquee player Yuvraj Singh, which Sahara India has accepted with condition.
About Yuvraj, Sahara India says, "Yuvraj Singh, who is truly like one of our family members, is quite unfortunately, passing through a bad phase health wise, undergoing treatment for critical illness, overseas."
"Our duty is to take care of him, so Sahara has decided to pay him his full fee this year with condition as a Guardian that his priority should be health care and he should not play till he has fully recovered."