CBI Court dismisses Swamy's plea; big relief to Chidambaram, Govt
New Delhi, Sat, 04 Feb 2012
NI Wire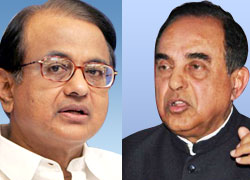 Giving a big relief to P Chidambaram and UPA government, the CBI trial court today dismissed the plea of Janta Party leader Subramanian Swamy who filled a case against erstwhile Finance Minister Chidambaram for making him 'co-accused' with A Raja, the erstwhile Telecom Minister in 2G-Spectrum scam.
The CBI trial court at Patiyala House, New Delhi rejected the plea of Subramanian citing that no case against Chidambaram could be made out due to lack of evidence.
"Your prayer to summon Chidambaram as an accused is dismissed," said Justice O P Saini on Saturday afternoon.
The trial court's verdict has disappointed Swamy who was arguing that the erstwhile Telecom Minister had no power to allocate 2G Spectrum to the telecom companies without the consent of then Finance Minister Chidambaram.
So, Chidambaram should be made co-accused in this case instead of making A Raja scapegoat, he had argued.
Commenting on Saini's judgement, Swamy said, "I will make a long statement on Sunday after reading the judgement."
He also informed to media that he would further go to the high court.
"It's not a setback. Not the first time that I had a setback at a lower court, but got relief in higher court. I have not fully read the order. The judge has said that my documents do show that Chidambaram participated in price determination and share dilution."
Swamy who was seeking 'criminal culpable' against Chidambaram has said that the court accepted that both Raja and Chidambaram decided together, but said there was no criminality in Chidambaram's role.
"The Judge may be wrong. I have prima facie evidence against Chidambaram," added Swamy.