Praful Patel denies bribery allegation; seeks PM intervention
New Delhi, Fri, 03 Feb 2012
NI Wire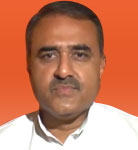 Praful Patel, the Union Cabinet Minister for Heavy Industries and Public Enterprises has denied the allegation of taking bribe of worth US$250,000 from an India-born Canadian person Nazir Karigar for sealing a deal of worth USD-100-million when he was Civil Aviation Minister in previous UPA government.
Denying the allegation, the minister said, "All the allegations are baseless. I've not taken the bribe."
Seeking to Prime Minister's intervention in the allegation case, Praful wrote a letter to PM. In his official letter he has said, "I have categorically and in no uncertain terms denied these allegations as being baseless and preposterous. I earnestly request you that the factual position be conveyed to the authorities in Canada in order to avoid any embarrassment to the Government of India or me personally."
The government however has ruled out the possibility of investigating the case against the allegation.
The current Civil Aviation Minister Ajit Singh has said that Air India would not initiate a probe merely on the basis of a media report.
"Praful Patel has denied this and has also spoken to PM. Praful Patel is ready for any investigation. Air India will not investigate by its own. There should be some reason for investigation. Just publishing any news in newspaper can't be a reason for investigation,"Ajit said.
The controversy surfaced on Friday when a news came in the highlight from Canada. According to sources, a Canadian daily Globe and Mail said in a news report on Wednesday that the country's federal justice department was going to prosecute one Indian-born Nazir Karigar for paying bribes to Indian officials.
Nazir Karigar has paid USD250,000 to then Civil Aviation Minister Praful Patel for securing a $100 million contract on the behalf of a Canadian firm CryptoMetrics for supplying facial-recognition systems to Air India, the report said.
The bribery was given to Praful with the intervention of former Mumbai commissioner Hasan Ghafoor, who was erstwhile the security director at Air India. Hasan Gafoor has said to be the childhood friend of Nazir.
However, the deal never took place due to higher costs.