PM predicts lower growth rate in FY2011-12
New Delhi, Fri, 03 Feb 2012
NI Wire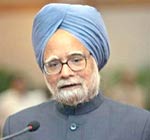 Predicting a lower growth rate in the range of 7-7.5% as against projected 9% in the last presented budged by Finance Minister Pranab Mukherjee, Prime Minister Manmohan Singh today said that the continuous uncertainty in global economy environment had hurt the Indian economy too.
Addressing in a conference of the Chief Secretaries in New Delhi PM however was positive on India's economy infrastructure.
"Our economy grew at the rate of 8.4% in 2010-11. This was a creditable performance when seen in the background of a crisis-ridden world economy," he said.
Comparing to 2009-10 India's growth rate, this rate is better, he cited.
India's Gross Domestic Product (GDP) rate was 8% in 2009-10.
Giving the reason of estimated lower growth rate PM said that the global economic crisis particularly in eurozone and monetary tightening together impacted the rate of growth adversely.
This led the inflation and price hike of essential commodities, he argued.
"Our government undertook several measures to ease the supply constraints that were a cause for rising prices. This coupled with the policy of monetary tightening that the Reserve Bank adopted to curb price hike,"Manmohan said.
The Reserve Bank of India since January 2010 had hiked the key interest rate 13 times to arrest inflation.
"The RBI measure led to a continuous decrease in inflationary pressure in primary food articles in recent weeks. The overall inflation has also eased," added PM expressing hope that soon RBI would cut the interest charges.
The statistical data released last week stated that the wholesale price index fell to a two-year low of 7.47% in December as compared to 9.11% in the previous month.
Annual food inflation was also recorded at minus 1.03% for the week ended Jan 14. This was the fourth consecutive week of decline in general food price.