UP Assembly Election 2012: Sixth phase of Polling continues amid tight security
Lucknow, Tue, 28 Feb 2012
NI Wire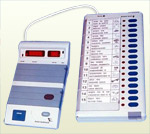 The Sixth phase of polling for Uttar Pradesh Assembly Election 2012 for 68 seats begins today amid tight security. According to Election Commission (EC), 'The polling began at 7 am today and would continued till 5 pm.'
In the sixth phase of election, over 2.17 crore electorates would decide the fate of 1103 candidates including 86 women and some heavyweights such as Rashtriya Lok Dal's (RLD's) Chief Ajit Singh Chaudhary's son Jayant Singh Chaudhary, Rajveer Singh, son of former minister Kalyan Singh, Energy Minister Ramveer Upadhyaya and deputy leader of BJP Legislative Party Hukkum Singh.
Tight security has been deployed at 22,137 polling stations at 12,181 centres spread over 13 districts - Saharanpur, Prabuddha Nagar, Meerut, Bagpath, Ghaziabad, Panchsheel Nagar, Gautam Buddha Nagar, Bulandshahr, Aligarh, Muzaffarnagar, Mathura, Mahamayanagar and Agra.
EC has marked 3,188 centres and 4,892 stations as sensitive. As much as 1015 video cameras and 2353 digital cameras have been installed to conduct smooth and fare polling, EC official said.
This phase of election is an acid test for Congress and RLD ties in the centre. RLD Chief Ajit Singh's son Jayant Singh, present Member of Parliament (MP) from Mathura is contesting from Maath assembly seat in his Lok Sabha constituency against a veteran local politician and five-time Member of Legislative Assembly Shyam Sundar Sharma, who is contesting on a Trinamool Congress ticket.
The other heavy weight contestants are: RLD state president and bureaucrat-turned-politician Baba Hardeo Singh from Aitmadpur seat, Agra, Energy Minister Ramveer from the Sikandrarau seat, Hathras, Ramveer's brother Vinod Updhayaya from Dibai seats, his brother-in-law Satyendra Sharma from Sadabad seats, Jaiveer Singh from Barauli and Dharm Singh Saini from Nakud seats, Rashid Masood's nephew Imran Masood from Nakud seat, Shahi Imam of Delhi's Jama Masjid Maulana Ahmad Bukahri's son-in-law Umar Ali from Behat seat, Saharanpur, and former minister Rajpal Tyagi from Moradnagar seat, Ghaziabad on Samajwadi Party (SP) ticket.
All the political parties including Congress, SP, BSP, BJP and RLD have done hectic campaigning in the Jat land of the state.
In the 2007 assembly polls 46.58 per cent votes were polled for 67 seats of which BSP got 35, BJP 12, RLD 10, SP 3, Congress 2 and others 5.