Leach Therapy: a natural way to cure diseases
New Delhi, Tue, 28 Feb 2012
NI Wire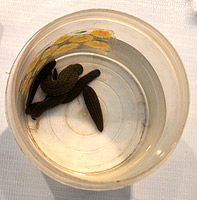 With the rising popularity of naturopathy among common people, the leach therapy is also being used at broad scale in not only detoxifying the body but also in some special cases of surgery where there is a chance of blood clot.
According to Dr. Anup Jain, M.D. (Panchkarma), Leach therapy is a part of Panchkarma, the five state of detoxification and Purifying the body. The medicinal leeches are used to detoxifying the impure blood and it is also used to cure several other diseases such as Arthritis, Gout, Sciatica, skin diseases such as Eczema, Psoriasis, baldness & hair fall, varicose veins, joint pain after occurring Chikungunya, old traumas, and black & blue skin etc.
On asking to how it works and how can we cure from leeches, Dr. Jain said that first of all, you will have to decided which types of leeches should be used. He advised to take and experts view, as only expert practioners can identify the medicinal leeches and toxic leeches.
'The toxic leeches can be dangerous and fatal while small to medium size leeches are very useful in curing the disease,' said Dr. Anup Jain.
'According to the condition and state of diseases, we opt the leeches to suck the impure blood. The medicinal leeches suck only impure blood and whenever the pure blood comes out, it leaves the body,' he added.
In response of risk of infection, he said, 'We prefer to use one leech for a person and after sucking blood from a person, we put the leech into a turmeric solution to get vomited all the sucked blood and toxins and after that we do not give anything to that leech for a week.'
'After a week, the leech becomes harmless and ready to reuse, but we use one leech to one person.'
Describing about the advantages of leech therapy, Dr. Jain said that now leeches are being used in some complex surgeries where there are more chances of blood clot, as leech has an anticoagulants (hirudin) and anaesthetics in its saliva that prevents blood from clotting and the patients also not feel pain.
The informed that medicinal leeches can be spotted as green, brown, or greenish-brown with a darker tone on the dorsal side and a lighter ventral side.
(This article is on the basis of an interview to Dr. Anup Jain, Vardaan Kayakalp Clinic, Delhi. Ph:011-27941571)