'Arogya Utsav' concludes with the hope to be a greater event next time
New Delhi, Tue, 28 Feb 2012
Noor En Ahmed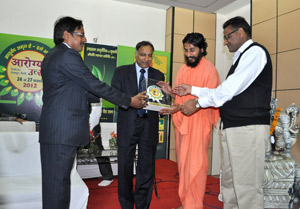 The third edition of 'Arogya Utsav' concluded on February 27 amid huge success. The four days health fair based on alternative medicine systems that began on February 24 with the note to create awareness about Ayurvedic, Unani and Homeopathic medicine systems among common persons, concluded on Monday with the prize distribution and honouring the participants for their great contribution.
On the concluding day of four-day ayurvedic health fair, Swami Surendra Puri, a pupil of renowned Swami Buddha Puri, Shabda Surati Sangam Ashram, Moga, Punjab was the Chief Guest on this occasion along with other eminent personalities who have contributed enough for promoting Ayurvedic, Unani, Siddha, Homeopathy and Naturopathy medicine systems.
In his valedictory address, Swami Surendra Puri who is on 'Mission Immortality' with his mentor and colleagues, said that human can heal itself with Mahayoga, a complex process of physical and mental purification through Agni Kriya, Siddhamrita Surya Kriya and Sanjivani Prana Kriya.
According to Swami Puri, the medicines only provide partial and quick relief while through Mahayoga, you can achieve holistic cure and treatment.
Speaking on this occasion, Vaidya Trilok Chand said that Ayurvedic Medicine system is the mother of all medicine systems and it can cure very complex diseases without providing any side effects to the body.
The only need is to believe in this system and to adopt it at mass scale.
Describing the power of Ayurveda, he gave several examples of very complex diseases that were declared 'incurable' by the allopathic medicine practioners, which he has successfully treated.
Ajay Palaha, the Editor of 'Vaidya Raj' magazine and co-organizer of this event, at last expressed his thanked who contributed in the fair.
The award ceremony went after that in which all the participants whether he had set up stalls in Delhi Haat premise or the medical practioners who advised hundreds of patients at free of cost, were honoured.
The event concluded with the hope that next time it would be a bigger and larger event in Delhi.