84th Academic Awards announced; The Artist wins five leading awards
California/New Delhi, Mon, 27 Feb 2012
NI Wire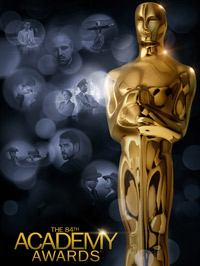 The 84th Academic awards for 2012 has been announced on Sunday in which "The Artist" dominated the highly prestigious award function given for best Hollywood movies by grabbing five Oscars including 'Best Motion Picture of the Year' award, 'Best Director' award, 'Best Performance by an Actor in a Leading Role' award, Best Music (Original Score)' award and 'Best Costume Design' Award.
"Hugo", another highest nominated movie in different categories also won five Oscar awards comprising 'Best Art Direction', 'Best Cinematography', 'Best Sound Editing', 'Best Sound Mixing' and 'Best Visual Effects award'.
"The Artist" won the biggest award in the 84th Academic Award ceremony by securing 'Best Motion Picture of the Year' award.
Michel Hazanavicius, who won 'Best Director award' for the same movie became very happy while holding this award on the stage. "I am the happiest director in the world right now. Thank you for that", Hazanavicius said to the audience.
Jean Dujardin won 'Best Performance by an Actor in a Leading Role' award for "The Artist". He too was highly exited and said, "I love this country." He thanked to the Academy, fellow filmmakers and his wife for making him able to do an excellent job in this year's best movie. He recalled silent actor Douglas Fairbanks as an inspiration for performing his role similar to that character.
Renowned actress Meryl Streep won 'Best performance by an actress-in-a-leading-role' award for her excellent performance in "The Iron lady" for portraying the Character of former Prime Minister of United Kingdom Margaret Thatcher. It was her third Oscar Award. "When I hear my name I see half of America of going aww, not her again! But whatever. I want to thank my husband, colleages, and friends. This is such a great honour but friendships, love matter to me more," Meryl said.
Christopher Plummer (82) won 'Best Actor in Supporting Role' award for "Beginners". It was his first Oscar award. Plummer played a role of elderly gay man. He is the oldest Oscar award winner in the Oscar history. "You are just two years old, darling," said Christopher expressing his joy while looking at Golden Oscar Trophy.
Octavia Spencer won 'Best Actress in Supporting Role' award for "The Help". She thanked to her family and the entire team of "The Help".
Another big movie "Hugo" which got 11 nominations in different category won equal number of awards to "The Artist". Graham King and Martin Scorsese's movie was based on the story of a young lad who lost in a Railway Station.
In foreign language category, Iranian divorce drama "A Separation" won the best movie award. Receiving the award, its director Ashgar Farhadi said, "I proudly offer this award to the people of my country, the people who respect all cultures and civilizations and despise hostility and resentment."
Here is the list of other Oscar Awards:
Best Animated Feature Film
Gore Verbinski for Rango
Best Cinematography
Robert Richardson for Hugo
Best Make up
The Iron Lady
Best Music (Original Score)
The Artist
Best Music (Original Song)
"Man or Muppet" for The Muppets
Best Writing (Original Screenplay)
Midnight in Paris
--With Agencies Input--