Fishermen Killing row: Indian police search Italian tanker
Kochi, Sun, 26 Feb 2012
NI Wire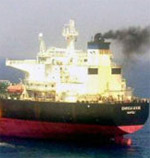 Kerala Police, Saturday, reportedly searched for weapons on the Italian oil tanker Enrica Lexie after 10-days long drama over two Indian fishermen killing row. The Kerala police went to Kochi port to investigate when the Italian deputy foreign minister maintained that Italy wanted to maintain good ties with India.
A police team led by Kochi City Police Commissioner M R Ajith Kumar carried out the search and seizure operation in the presence of representatives from Indian Navy, Coast Guard, Customs and Italian arms experts on Saturday.
According to sources, the seized arms and documents would be presented before Kollam district court on Monday (February 27) as well as forwarded to a forensic laboratory for tests.
The sources added that police has made it clear that although Italian officials were present at the moment but it was not a joint operation. The Kollam district court had accepted Italy's plea to allow their experts at that moment of the searching operation.
The marines from where Italian security guard did firing operation that allegedly killed two Indian fishermen ten days ago had been detained by Indian police and was anchored at Kochi seaport. The court has also ordered to confine it till Monday by accepting the plea of one of the slain's wife.
The Italian Marines, Massimiliano Latorre and Salvatore Girone, were arrested for the February 15 shooting that killed Jelestine, 45, and Ajesh Binki, 25, who were part of an 11-member team of fishermen in a wooden boat. The Italians claimed that they had shot in the direction of the fishermen, suspecting them to be pirates, beyond India's sea limits.
A case of murder has been registered against the Marines.