World Book Fair New Delhi, 2012 begins with a new imagination
New Delhi, Sat, 25 Feb 2012
NI Wire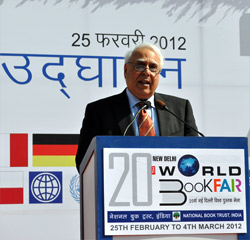 The biennial World Book Fair New Delhi, 2012 to be held from February 25 to March 4, 2012 began today. Inaugurating the 20th World Book Fair, Chief guest Mr. Kapil Sibal, Union Human Resource Development Minister said that India being the third largest publisher after US and UK is a pioneer in the field of literature and this kind of event should take place on annual basis to promote the Indian literature globally.
Professor Mridula Mukherjee, Center for Historical Studies Jawaharlal Nehru University was also present at the occasion and threw some light on the history of Indian literature and its periodic development over years. Shri Manoj Das, Professor of English at Shri Aurbindo International University and Professor Vipin Chandra, a reputed historian were also the gusset of honor at the inauguration ceremony of World Book Fair 2012, New Delhi.
Shahabuddin Yaqoob Quraishi, Chief Election Commissioner of India also visited the event and said that it is really great to see a blend of literature and cinema together as cinema is something that conveys the message directly to the heart of a person and it is really good to see a fusion of cinema and literature at the same place.
Organized by the National Book Trust (NBT), India every year, the theme of the World Book Fair 2012 is Indian Cinema as Indian cinema is going to complete its 100 years in 2013. A few books based on Indian cinema were also released on the occasion. Moreover, a catalogue including 300 titles representing publications of 800 publishers in all major languages based on Indian cinema has been released by NBT. The catalogue contains information about copyright and contact details for right enquires that will help the publishers around the world to get the information about the rights to publish or translate any of the books based on Indian Cinema.
The event has been divided into three pavilions namely Rights Pavilion, Theme Pavilion and Children Pavilion showcasing a total number of 2500 stalls including 1300 exhibitors can be visited at the mega event. Exhibitors from foreign countries like USA, Bangladesh, France, Iran, Israel, Italy, Japan, Canada, Malaysia, Mauritius, Nepal, Pakistan, Saudi Arabia, Singapore, Sri Lanka and Germany has also participated in the book fair.
In addition to that, Pink Ribbon Book Tag has been launched this year as an initiative of Sagi Publication. The publication will contribute Rupee 1 for every book sold at the Book Fair, to the Indian Cancer Society for social welfare.