Arogya Utsav 2012 begins with a new hope
New Delhi, Sat, 25 Feb 2012
NI Wire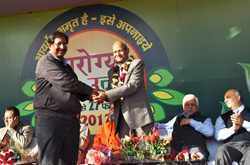 Arogya Utsav 2012 began with a new hope this year in Dilli Haat , Pitampura, New Delhi and will continue from 24th to 27th February 2012. As an initiative of Vaidyaraj Swasthya Patrika in the collaboration with Indraprastha Ayurvedic and Unani medicines business committee, a non-government organization (NGO) 'Soch' and Shri Indraprasthiya Vaidya Sabha Delhi, the four days fair will be focused on promoting the ayurvedic and the alternative medicinal system to the common man.
During these four days a number of manufacturers of ayurvedic and unani medicines will be displaying their products. Companies like Dabur, Anmol India Pvt ltd., an Hans Herba Overseas India has participated in the fair. In addition to that, a number of highly experienced Naadi-Vaidyas, Homeopaths & Naturopaths will be available all day where you can get free consultation. A free yoga session will be conducted by Acharya Satyaveer ji Maharaj daily from 10 to 11 A.M.
Addressing to the press conference, Acharya Satyaveer ji Maharaj said that disease has become a part of our life now and is a result of unbalanced lifestyle. So, we should avoid feelings like anger, tension, stress, selfishness and unusual food habits in order to stay fit. Ayurveda is a holistic science of treatment with a cure of every disease in it. So, medicinal systems like Ayurveda, Unani, Homeopathy, Accupressure, Accupunture, Yoga, Reiki and Naturopathy should be promoted to a large platform so that common man can come in direct contact with them, he added.
You can find almost all type of alternative medicines at the place including Ayurveda, Unani, Homeopathy, Accupressure, Accupunture, Yoga, Reiki, Naturopathy, Aroma therapy, Batch flower, Vaastu & Astrology. In addition to that, facilities of Sona bath, Mud-bath, Steam bath, Ayurvedic massage and Panchkarma is also available in the fair. A live demonstration of leech treatment for joint pains can be experienced in here.
Chief guest for the inaugural event was Shri Manish Chatrath, Chairman, Delhi tourism and said during his speech that it is very important to promote these alternative medicinal system on a large scale as they are really very effective and efficient.