Freida Pinto wishes to do a comedy film with Dev Patel
New Delhi, Fri, 24 Feb 2012
NI Wire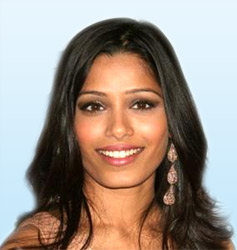 Freida Pinto, the actress who shot to stardom with the success of 'Slumdog Millionaire' says that it may be difficult to recreate the success of 'Slumdog Millionaire' with co-star and real life boyfriend Dev Patel, but she is interested to do a comedy film with him.
The two stars who met on the sets of their Oscar winning movie 'Slumdog Millionaire' have been dating for three years. Since then they have walked the various award ceremonies together for the hugely successful film.
"I don't think something like a 'Slumdog' could be repeated by the two of us, only because the expectations that were built on that project were so high. And I know that it would be difficult to live up to those expectations," says a report of Independent.
"If it were a comedy, or maybe a dark comedy, I'd be interested in trying that out with him," Freida added.
--With inputs from ANI