UP Assembly Election 2012: Brisk turn out in the fifth phase of polling
Lucknow, Thu, 23 Feb 2012
NI Wire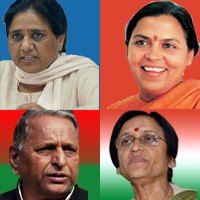 Brisk turn out has been reported in the fifth phase of Uttar Pradesh Assembly Election 2012 amid some news of scuffles and polling boycott in some polling booths.
According to state election commission's report, an estimated 57% polling were exercised today for the 49 constituencies spread over 13 districts - Firozabad, Kanshiram Nagar, Etah, Mainpuri, Etawah, Auraiya, Ramabainagar, Kanpur, Jalaun, Jhansi, Lalitpur, Hamirpur and Mahoba - at the end of the polling.
The news of highest polling came from 70.58% was recorded in Lalitpur district of Bundelkhand region, followed by 62.25 in Ramabai Nagar and 61.57% in Firozabad, state EC Umesh Sinha informed to media.
This year, the turn out went 24% higher as against 2007 assembly polling for erstwhile 53 seats.
Among other districts Kanpur recorded 54.6%, Auraiya 59, Etah 60.25, Etawah 59, Mainpuri 57.25, Jhansi 60.38, Hamirpur 57, Mahoba 57, Kanshiram Nagar 60.04 and Jalaun 60.
Some news of polling boycott and tensions came from Etah, Lalitpur, Jalaun and Hamirpur and Kanpur Cantt area.
According to reports, in Kanpur Cantt. Constituency, the local Congress candidate alleged that 75% of voters' names were missing from the voter list despite their having voter-ID cards.
'Angry voters created a ruckus but heavy police presence prevented the situation from worsening,' Sinha added.
He also said that one polling station Jaswant Nagar assembly constituency in Etawah district can face another round of polling after going on scrutiny as polling officials did not erase the data for mock poll.
Rest of the polling exercise was peaceful, he further said.
With concluding the fifth phase of polling, the fate of 829 candidates, including that of Leader of the Opposition in the state assembly Shivpal Singh Yadav, BJP leader Uma Bharati and former UP chief minister Kalyan Singh have been sealed.
The sixth round of polling would be held on February 29 while the last round of the polling will be held on March 03.
The counting of the vote will go on March 06.
In last assembly elections in 2007, there were 53 seats in fifth phase of which BSP won 27, SP 14, BJP 6, Congress 4 and others 2.