20th New Delhi World Book Fair set to begins from Feb 25
New Delhi, Thu, 23 Feb 2012
NI Wire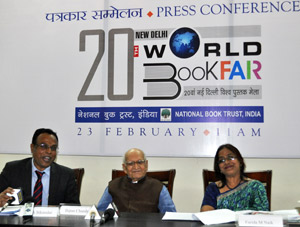 The nine-day long 20th New Delhi World Book Fair is set to commence from Saturday (February 25, 2012) at Pragati Maidan, New Delhi.
The Telecom and Human Resource Development (HRD) Minister Kapil Sibal on Saturday is scheduled to inaugurate the fair at 10 am at Hamsdhwani Open Air Theatre, Pragati Maidan.
Eminent writer and Professor of English, Sri Aurobindo International University, Pondicherry, Shri will preside over the function while Prof. Mridula Mukherjee, Central for Historical Studies, Jawaharlal Nehru University is scheduled to be guest of honour.
Over 2500 stalls stretched in 10 halls covering 45,000 sq. meter area have been set up in 20thedition of fair for displaying the books of 1300 exhibitors including 30 foreign publishers and organizations.
The focus of this fair would on 'Celebrating 100 years of Indian Cinema'. Several cultural programmes including talk shows and film screening will presented in the theme pavilion at hall no. 7.
Several other pavilions such as Children's pavilion, Delhi pavilion, Tagore pavilion will also be set up in different halls.
In this book fair, audience will be able to read and buy books related to social science, humanities, educational books, books related to children, medicine and many others.
The Category wise distribution of halls is as follows:
Publishers and Distributors: Hall No. 1 to 6
Foreign Publishers: Hall no. 7-B & C
Social Science & Humanities: Hall No. 8 & 9
Regional Language Publication: Hall no. 10
Hindi Language Publication: Hall No. 11
Educational Aids, CDs, Games etc: Hall No. 12
S&T and Medicine: Hall No. 12-A
Children and Educational Books: Hall No. 14
Souvenir shops: Hall No. 1,7 & 14
Public entry time for the fair will be from 11 am to 8 pm.
Entry Fee: Rs. 20/- per adult and Rs. 10/- per children