Gay sex is against the social order: ASG to SC
New Delhi, Thu, 23 Feb 2012
NI Wire
null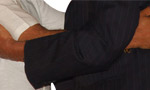 "Homosexuality is highly immoral, spreads HIV and is against the social order", said Additional Solicitor General (ASG) P.P. Malhotra, on behalf of government to Supreme Court (SC) on Thursday.
Appearing from the Home ministry side, Malhotra strongly opposed the LGBT (Lesbian, Gay, Bisexual and Transgender) sexual relationship and urged the court to reverse the decision of decriminalizing Gay sex.
"Gay sex is highly immoral and against the social order and there is high chance of spreading of diseases through such acts. Our Constitution is different and our moral and social values are also different from other countries, so we cannot follow them," said ASG Malhotra.
This statement of the home ministry has broken a rage among the LGBT activists.
Later, government has to clarify its stand after Malhotra's appearance in the court.
In a hurriedly-issued press statement, the Home Ministry said, "Ministry of Home Affairs has not taken any position on homosexuality...Ministry of Home Affairs has also not given any instruction apart from conveying the decision of the Cabinet. Additional Solicitor General had been asked only to assist the apex court."
The Supreme Court had yesterday queried from anti-gay rights groups, challenging legalisation of gay sex, about the law on homosexuality prevailing in other nations.
Earlier, the bench had said that homosexuality should be seen in the context of changing society as many things which were earlier unacceptable have become acceptable with passage of time. The bench had referred to the recent phenomena of live-in relationship, single parent and surrogacy.
The apex court is hearing petitions filed by anti-gay rights activists and also by political, social and religious organisations who have opposed the high court verdict decriminalising homosexual behaviour.
Earlier, the Delhi High Court had given a landmark decision on homosexuality on July 2, 2009, and annulled Section 377 of IPC. This annulment made gay sex legal, as before this section stated, "Whoever voluntarily has carnal intercourse against the order of nature with any man, woman or animal, shall be punished with imprisonment for life, or with imprisonment of either description for term which may extend to ten years, and shall also be liable to fine".
This decision, on one side, was greeted merrily by the LGBT communities but on the other side was challenged by the social and religious group who think same sex relationship is against the law of the nature.
null