PM steps in to ally states' fear over NCTC issue
New Delhi, Wed, 22 Feb 2012
NI Wire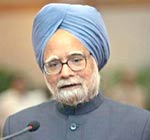 Prime Minister Manmohan Singh, in responding the letters of seven non-congress Chief Ministers, has pointed out that their growing concerns over implementing the proposed National Counter Terrorism Centre (NCTC) would be 'suitably' addressed by Union Home Minister P Chidambaram, as he would ask him to do it.
Assuring to seven Chief Ministers - West Bengal Chief Minister (CM) Mamta Banerjee, Bihar CM Nitish Kumar, Odisha CM Naveen Patnaik, Gujarat CM Narendra Modi, Madhya Pradesh CM Shivraj Singh Chouhan, Tamil Nadu CM J Jayalalithaa, and Tripura CM Manik Sarkar - PM Singh said that he would ask the Home Minister Chidambaram to address all the concerns over NCTC. He also assured that the states' right would not be infringed, as NCTC would be established under Investigation Bureau, the internal intelligence agency.
However, he has not given any indication about halting this proposal, set to be established by March 01, 2012.
In his letter, PM said, "In forming the NCTC, it is not the government's intent in any way to affect the basic features of the constitutional provisions and allocation of powers between the states and the union, but the primary purpose of the proposed body is to coordinate counter-terrorism efforts throughout the country."
"It is for this reason that the NCTC has been located within the IB and not as a separate organisation," PM explained.
The seven non-congress governing states have raised the issue of by passing the states' governing rights and disturbing the federal structure of constitution in 'imposing' the proposed anti-terror body in all states. They have argued that Central has not communicated to the states and is in the move to 'enforce' NCTC without states' consent.
In this regard, they had written letters to Prime Minister to intervene in this issue, which has created political storm in India.