World Book Fair 2012 New Delhi
New Delhi, Wed, 22 Feb 2012
NI Wire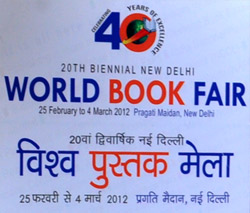 World Book Fair 2012, New Delhi
The biennial world book fair held in Pragati Maidan in New Delhi is going to be held from February 25 to March 4, 2012 this year. Started in 1972, this will be the 20th edition of the World Book Fair organized by the National Book Trust, India (NBT), an autonomous organisation founded in 1957 by the first Prime Minister of India Jawaharlal Nehru under the Ministry of HRD, Govt of India. The organization was founded with the objective of book publishing and book promotion in India.
It is the oldest book fair in India and the second largest book fair in the world. It is considered to be the third biggest market for English publication with the participation of 12,000 publishers and around 90,000 titles a year in more than 18 languages. The book fair has gained its popularity on a global level with more than 18 foreign participants taking part in the mega event. The list of foreign countries include: USA, Bangladesh, France, Iran, Israel, Italy, Japan, Canada, Malaysia, Mauritius, Nepal, Pakistan, Saudi Arabia, Singapore, Sri Lanka and Germany.
The New Delhi World Book Fair (NDWBF) is one of the best platforms to provide an interface between authors, publishers, booksellers and readers. In addition to that, it provides an exclusive platform and opportunity to both global and Indian players for copyright trade, translations, co-publication arrangements, cultural exchanges, presentations and trade promotions in a single place.
Like its previous editions, a theme has been decided for the book fair this year also. The theme for the 20th New Delhi World Book Fair (NDWBF), 2012 is Literature and Indian Cinema.
With the participation of several publishers, booksellers, book distributors, dealers, and manufacturers of teaching aids and CD-ROMs, the participants are classified into three categories: English Language Publishers/Booksellers/Distributors, Hindi and Other Indian Regional Language Publishers, and Foreign Publishers. However, the English category has been further classified into many specified categories such as Publishers, Distributors, Science and Technology, Social Sciences and Humanities, Educational Books, Children's Books, Educational Aids, CDs and Games, and Miscellaneous.
Many publishers and booksellers such as 'Delhi State Booksellers and Publishers' Association are supporting the event. In addition to that, Sagi Publication has taken the initiative to launch Pink Ribbon Book Tag this year that will contribute Rupee 1 for every book sold at the Book Fair that will be contributed to the Indian Cancer Society for social welfare.
In addition, Pink Ribbon Book Tag has been launched this year by Sagi Publication. The publication will contribute Rupee 1 for every book sold at the Book Fair, to the Indian Cancer Society for social welfare.