Fisherman Killing Row: Italy moves Kerala HC
Kochi/New Delhi, Tue, 21 Feb 2012
NI Wire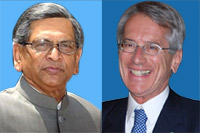 Italy is looking to move to Kerala High Court seeking to quash the FIR lodged against its two naval guards, who have been arrested by state police on February 19 over the alleged charges of killing two Indian fishermen.
Two Italian Naval Guards - Latore Massimiliano and Salvatore Girone - on February 15 had allegedly shot dead two fisher men who had come too close to Italian merchant vessel within Indian marine border. The local police on Sunday have detained the Italian ship Enirca Lexie and the above two naval guards.
The captured Ship and arrested guards on Monday were produce before the local court in Kochi, where the local magistrate has sent them to the judicial custody till March 5.
Opposing to local court's order, the Italian government through its Embassy in New Delhi is considering to move to Kerala High Court, seeking to quash lodged FIR and charges levelled against them. The police have registered the case of murder under section 302 of the Indian Penal Code (IPC).
Italy has argued that the two marines have immunity from Indian law as the merchant vessel was flying with an Italian flag in international waters as it sailed from Singapore to Egypt when the firing incident occurred last Wednesday and the guards have mistakenly assessed the deceased as pirates and started firing when the two came too close the merchant vessel.
They wanted the trial of this case under UN Laws and in Italy while India has maintained that the incident held in Indian see border, and the accused would have to face the trial in local courts.
The talks on this issue have reached to higher level and Italian Foreign Minister Giulio Terzi was talking to his Indian counterparts S M Krishna. He also warned India about "considerably differences" over this issue.
"There are currently considerable differences of a legal character. Up to now I have not seen the co-operation between India and Italy that would be desirable and would allow a quick resolution," Terzi said.
A three-member team of high level delegates from Italy have been sent to India to negotiate over this issues, but no news of development have come so far.
-- With Agencies Input --