Govt. orders high level probe in Junagarh stampede case
Ahmedabad, Mon, 20 Feb 2012
NI Wire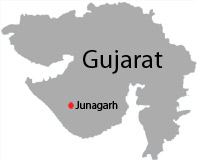 A day after stampede accident at the Bhavnath Temple's annual Mahashivratri fair in Junagadh in which as much as six people were reportedly dead and over 40 injured, the Gujarat government has ordered a high level probe and announced an ex-gratia to the kin to victim.
According to sources, a senior officer at the Junagadh District collector's office has informed to media that a high level inquiry committee has been set up in the leadership of Additional Chief Secretary Varun Maria to probe the case.
The State Government and the Junagadh Municipal Corporation (JMC) have also announced an ex-gratia amount of Rs. one lakh each to the kin of the deceased and Rs 25,000 to the injured.
The security level at the venue has been more tighten up in the move to pass the festival peacefully.
In view of the mishap, Akhil Bhartiya Sadhu Samaj, the main organisers of the fair have decided to call off their famous procession and said that only a symbolic procession would be taken out instead.
Earlier, according to reports, the chaos started when a bus, probably a government one, had a breakdown at Pannchnaka. Despite the traffic jam, the heavy flow of devotees from both sides continued, leading to the stampede.
"In the evening, there was a traffic jam on the bridge, which is the only road connecting the city to Bhavnath Taleti where the temple is located. Due to traffic jam, lakhs of people visiting the area were trapped. The stampede broke out between Damodar Kund and the temple around 7.45 pm," the police informed.
Six persons, including three women and two children, were killed while over 40 persons were injured in the stampede last night, added Police.
Till about midnight, the injured were still being shifted to Junagadh Civil Hospital. The Police have also not denied to get more number of injured in the night, as of now, the bodies have not been identified.
The Mahashivratri fair in Junagarh is a very popular fair where as much as over six lakhs people gather every year and it was expected that the number of gathering can go to 1-million.
The annual fair is held to celebrate Mahashivratri, which falls on Monday. Last couple of days have seen around six lakh devotees visiting Junagadh and Bhavnath temple.