Women Hockey has good opportunity to qualify London Olympic: CR Kumar
New Delhi, Sat, 18 Feb 2012
NI Wire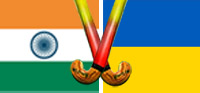 The Coach of Indian Women Hockey Team C R Kumar is viewing a good opportunity to Indian Women Hockey team for cementing the berth of London Olympic Game 2012 scheduled from 27th July.
India which has won first Olympic gold medal in Moscow Olympic 1980, has again the good opportunity for playing in London after 32 years.
India, which is playing the qualifying series with five nations - South Africa, Italy, Canada, Ukrain and Poland in which only South Africa is higher ranked team against India.
India that have 12th ranked in world hockey is playing today its first match with less experienced and under prepared team Ukrain at Major Dhyan Chand National Stadium Saturday at 6 p.m.
This time Indian selectors have shown confidence in young blood and selected an excellent blend of ace and experienced players in the leadership of Asunta Lakra who have played 94 international games for India.
Mid-fielder Kirandeep Kaur is the Vice Captain of India while Subhadra Pradhan is the most capped Indian player. Pradhan along with Jaspreet Kaur and Joydeep Kaur will protect the Indian defence while India's stronger strikers - Rani Rampal, Poonam Rani and Jasjeet Kaur Handa will attack over opponents.
Commenting about India's opportunity in this series Coach C R Kumar said, "We have got a fair chance. We don't want to wait for another four years. If we can qualify, it will be good for the future of women's hockey in India, as we have never technically qualified."
Indian Squad:
Asunta Lakra (Captain), Kirandeep Kaur, Anuradha Devi Thokchom, Savita Punnia (Goalkeeper), Yogita Bali (Goalkeeper), Ritu Rani, Rani Poonam, Vandana Katariya, Deepika Thakur, Jasjeet Kaur Handa, Mukta Prava Barla, Soundarya Yendala, Jaspreet Kaur, Joydeep Kaur, Sushila Chanu Pukhrambam, Rani Rampal, Roselin Dungdung, and Subhadra Pradhan.
Ukrain Squad:
Maryna Vynohradova (Captain), Alvina Budonna (Goalkeeper), Tetyana Stepanchenko (Goalkeeper), Olena Fritche, Yevheniya Moroz, Yevheniya Kernoz, Bohdana Sadova, Nataliya Vasyukova, Maryna Khilko, Halyna Hlynenko, Tetyana Salenko, Olena Ivakhnenko, Yana Sitalo, Kateryna Khomenko, Alona Pogorila, Yana Vorushylo
First Olympic Qualifier Series Schedule Details
Women Pool
Vanue : Major Dhyanchand National Stadium
| | | | | |
| --- | --- | --- | --- | --- |
| Date | Time | Representing Country | VS | Representing Country |
| 18 February 2012 | 10:00 | | VS | |
| 18 February 2012 | 12:00 | | VS | |
| 18 February 2012 | 18:00 | | VS | |
| 19 February 2012 | 10:00 | | VS | |
| 19 February 2012 | 14:00 | | VS | |
| 19 February 2012 | 18:00 | | VS | |
| 21 February 2012 | 10:00 | | VS | |
| 21 February 2012 | 12:00 | | VS | |
| 21 February 2012 | 18:00 | | VS | |
| 22 February 2012 | 10:00 | | VS | |
| 22 February 2012 | 14:00 | | VS | |
| 22 February 2012 | 18:00 | | VS | |
| 24 February 2012 | 10:00 | | VS | |
| 24 February 2012 | 12:00 | | VS | |
| 24 February 2012 | 18:00 | | VS | |
Classification
Fifth and Sixth Position Match
| | | | | |
| --- | --- | --- | --- | --- |
| 25 February 2012 | 15:00 | P5 | VS | P6 |
Third and Fourth Position Match
| | | | | |
| --- | --- | --- | --- | --- |
| 25 February 2012 | 17:30 | P3 | VS | P4 |
Final Match
| | | | | |
| --- | --- | --- | --- | --- |
| 25 February 2012 | 20:00 | P1 | VS | P2 |