Hockey Olympic Qualifier (Men): India to take on Singapore today
New Delhi, Sat, 18 Feb 2012
NI Wire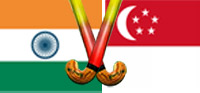 The Indian men hockey team led by Captain Bharat Chetri will take on young blooded Singapore today at 8 p.m. in the first Hockey Olympic Qualifying Tournament, which has been kicked off today in the morning with women's pool match held at Major Dhyanchand National Stadium, New Delhi between South Africa and Poland.
It is scheduled to play three qualifying series for London Olympic 2012, set to go on from 27th July to 12th August 2012 at India, Ireland and Japan respectively. Only winners of these series will able to secure their space in London Summer Olympic 2012.
In its first inaugural match, the 10th ranked Indian men team will play with 41st ranked younger Singaporean team, which seems to be an easy match for India.
Indian team that missed the last Olympic (Beijing Olympic 2008) due to not qualifying first time in 80 years of Indian hockey history, has a good opportunity to qualify this year due to face respectively lower ranked team. However, the future will tell the truth, hockey experts believe.
India will have to play with Italy (28th), France (18th), Canada (14th), and Poland (19th) and on 19th, 21st, 22nd and 24th February 2012 respectively.
Indian Captain Bharat Chetri over the opportunity of winning the title said that matches against Singapore and France would be our practice matches, however we could not take lightly to any of the team, as we have to qualify this series to seat the space in London Olympic.
Australian based Indian Coach Michael Nobbs is quite confident over his ace and experiences players like Sandeep Singh, Ignace Tirkey, Shivendra Singh, Tushar Khandekar and captain Bharat Chetri.
Sandeep and Ignace are the only two players in the current team who have played in 2004 Athens Olympics earlier.
However, he denied to take any team lightly and said, "Every match is crucial for us. So, we will play all the matches with same intensity."
Commenting over the fitness of the Indian team, Nobbs said, "Our fitness is good and I am happy to see that we are picking at the right time."
Team Squad:
India: Bharat Chetri (GK and Capt), Ignace Tirkey, Rupinder Pal Singh, Sandeep Singh, Kothajit Singh, Manpreet Singh, Sardar Singh, Yuvraj Walmiki, Saravanjit Singh, V R Raghunath, Tushar Khandeker, S K Uthappa, P R Sreejesh, Danish Mujtaba, Shivendra Singh, Gurwinder Singh Chandi, S V Sunil, Birendra Lakra.
Singapore: Samudra Setya Putra Pang Chian Ong, Mohamad Suhaili Mohamad Farhan, Muhammad Baquir Asali, Harjeet Singh, Mohamed Sabri Yuhari, Nur Ashriq Ferdaus, Mohammad Alfian Samsuri, Enrico Elifh Abdul Lathif Marican, Silas Abdul Razak Noor Shah, Chia Kai Bin, Karleef Sasi Abdullah, Yi Ru Tan, Muhammad Haseef Salim, Mohamed Ishak Ismail, Muhammad Shafiq Abdul Rashid, Muhammad Fazri Mohamed Jailani, Mohamad Farhan Kamsani, Muhammad Hidayat Mat Rahim.
First Olympic Qualifier Series Schedule Details
Men Pool
Vanue : Major Dhyanchand National Stadium
| | | | | |
| --- | --- | --- | --- | --- |
| Date | Time | Representing Country | VS | Representing Country |
| 18 February 2012 | 14:00 | | VS | |
| 18 February 2012 | 16:00 | | VS | |
| 18 February 2012 | 20:00 | | VS | |
| 19 February 2012 | 12:00 | | VS | |
| 19 February 2012 | 16:00 | | VS | |
| 19 February 2012 | 20:00 | | VS | |
| 21 February 2012 | 14:00 | | VS | |
| 21 February 2012 | 16:00 | | VS | |
| 21 February 2012 | 20:00 | | VS | |
| 22 February 2012 | 12:00 | Poland | VS | |
| 22 February 2012 | 16:00 | Italy | VS | |
| 22 February 2012 | 20:00 | | VS | |
| 24 February 2012 | 14:00 | | VS | |
| 24 February 2012 | 16:00 | | VS | |
| 24 February 2012 | 20:00 | | VS | |
Classification
Fifth and Sixth Position Match
| | | | | |
| --- | --- | --- | --- | --- |
| 26 February 2012 | 15:00 | P5 | VS | P6 |
Third and Fourth Position Match
| | | | | |
| --- | --- | --- | --- | --- |
| 26 February 2012 | 17:30 | P3 | VS | P4 |
Final Match
| | | | | |
| --- | --- | --- | --- | --- |
| 26 February 2012 | 20:00 | P1 | VS | P2 |