26th Surajkund Craft Fair concludes with the pledge to convert bigger event
Faridabad, Fri, 17 Feb 2012
NI Wire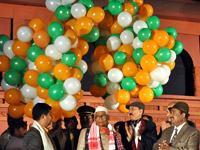 The 26th Surajkund National Craft Fair concludes on Wednesday with the assurance to return with a big bang next year at its scheduled date and time. It was decided in this episode of fair that since next year, Surajkund Fair would be recognized as an international craft fair due to rising numbers of international participants.
The Governor of Haryana Jagannath Pahadiya, who was the Chief Guest of this occasion announced to conclude the 15days long arts, craft and cultural fair that got immense popularity and became gained huge success.
Speaking on the occasion of concluding ceremony, Governor Pahadiya said that Surajkund is a national recognized stage, where the craft men and artists across the country come close to one another with the true art-loving purchasers.
Calling to the youth to come ahead for preserving the endangered arts and craft knowledge and skill from the ancestor's generation, he said, only the young generation can preserve and prevent India's one of the most valuable tradition.
Inviting to all in Assam for joining the forthcoming 'Assam International Carnival' event, Assam Tourism and Finance Minister Chandan Brahma said, Assam is a very beautiful, peaceful and cultural states, which hold a blend of tribal and nomadic culture. 'Whatever you are looking here at Assam's stall, is truly Assam's culture.'
He congratulated to Haryana for organizing such a grand event very peacefully and without any complaint, and hope that this success would continue in the future.
Several cultural programmes were organised at an open stage 'Natyashala', as a part of the craft fair in which Uzbekistan's and Gujarat's folk dances stunned the audience by their fascinating performances.
Award ceremony was held in the last several artists who had set up their stalls were given various types of award such as Kala Nidhi Award, Kala Mani and Kala Shri Award.
The biggest honour of artist award 'Craftsman of the year' award went to Assam's lady craft artists Auradha Kuli Pegu for her outstanding contribution in the tradition of saree and mekhla bedsheet weaving.
Other artists including Ait chakhaap, Biju Kalita, Chanchal Chakroborty, Mohd. Aleem, Ram Soni, Gauri Bala Das were awarded Kalamani Awards while Sameer Kumar Saha and Daya Ben Bi Dohat have been awarded Kalanidhi awards.