25th Garden Tourism Festival kicks off today
New Delhi, Fri, 17 Feb 2012
NI Wire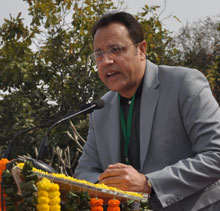 The 25th Garden Tourism Festival kicks off toady with a blend of beauty and healthy theme at 'The Garden of Five Senses', Said-ul-Ajaib, New Delhi. The Chairman of Delhi Tourism and Transportation Development Department (DTTDC) Manish Chatrath inaugrated the colourful and healthy festival at 12:30 p.m.. However, Delhi Chief Minister Sheila Dikshit was scheduled to inaugurate the festival, but due to some unknown reason, she could not reach at the venue.
In his inaugural address, Chatrath said, "It is our effort to make Delhi as the top state of India in the field of tourism and I am confident that we'll achieve this mile stone soon."
He also stated that DTTDC is planning to make a signature bridge that would fascinate the visitors by its beauty along with facilitate for smooth commuting.
Responding over the question of catering, Chatrath said that Delhi's catering service is among the best in the world, however, we would also try to improve the quality of foods.
To attract visitors, the Cultural Delhi continues to organize several cultural festivals that attach the common man to our tradition. In this move, 25th Garden Tourism Festival is a great effort of Delhi Tourism that motivates the visitors to preserve beauty of the nature.
This year's theme is 'Beauty and Nutrition'.
Giving the reason behind its theme, Tourism Department states that the beautiful and aromatic flowers nourish our soul while herbal flower and plants nourish our body and mind and keep us healthy.
In this 25th Garden Tourism Festival, the Garden of Five senses is flourished with potted plants, Foliage Medicinal and Herbal Plants, Hanging Baskets, Dahlias, Roses, Cacti Bonsai, Bougainvillea, Tray Garden and different types of cut flowers.
You can visit there on 17th to 19th February between 11:00 a.m. to 8:00 p.m. and enjoy the true fragrance of nature.
The cultural program is also scheduled to go on every day. The entry fee is Rs. 20/- per person. For the convenience of the public, a free shuttle service is available from Mehrauli-Baradpur Road to the venue and vice-versa.