Muslim quota; now Beni Challenges EC
Lucknow, Thu, 16 Feb 2012
NI Wire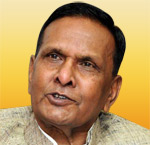 Just after concluding the chapter of Salman Khurshid Vs. Election Commission, another senior Congress leader and Union Steel Minister Beni Prasad Verma has now challenged to the Election Commission on Thursday by reciting the same punchline 'to increase the muslim sub-quota to 9%'.
Beni Prasad Verma, stated this today while addressing an election meeting at Kaimganj, Farrukhabad district in the presence of congress general secretary Digvijay Singh and Union Law Minister Salman Khurshid, whose wife Louis Khurshid is contesting the assembly election from Farrukhabad assembly seat.
"Reservation for Muslims will be increased and if the EC wants, it can now issue notice to me," said Steel Minister by adding that Salman was honestly fighting for the Muslims.
Earlier, Election Commission Wednesday has decided to not to take further action against Salman Khurshid, who has regretted on Tuesday to EC for defying the poll body.
The controversy over Muslim quota began when Khursid, in an election campaign in Farrukhabad has reiterated his promise for increasing the sub-quota for minorities if the Congress was voted to power, the poll panel's reservations notwithstanding.
Speaking in the same voice, Digvijay Singh said, "There is nothing wrong in what he (Verma) has said as increasing quota for Muslims is part of the Congress manifesto.
"Talking about things in party's manifesto is not a violation of election model code of conduct," he added.