Valentine Day's celebration in full swing amid tight security
New Delhi, Tue, 14 Feb 2012
NI Wire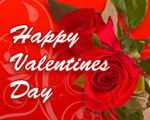 The lovers' festival Valentine Day (Feb 14) is being celebrated across the country including the national capital amid tight security.
This year, couples are celebrating the so-called 'festival' with any fear, as so called moral brigade have not called to protest the celebration or disturbed the couples, due to gaining criticism.
According to media reports, Shiv Sena, Ram Sena, Bajranj Dal and several others have admitted that due to their protesting act, they have only gained criticism and none have listen to us.
But, even though tight security forces have deployed to malls, shops, restaurants, pubs, bars, discothèques, cinema halls and all rushed place to avoid any kind of social disturbance and loss of public property.
A senior police has informed to media that due to Monday car bomb blast in Israel diplomat's wife car also led us to tighten up the security level.
Moreover, besides Capital, high alerts have also been declared in all metropolitan and bigger cities in India following the terror attack.
Few reports from capital markets state that there were huge shortage of red roses due higher demand in the city. The couples are using artificial red roses instead.
The Valentine festival that had entered in India as a one-day festival have now being celebrated as 14-day festivals begins from 1st February.
The expert believes, it is only the corporate companies' policy to enter the broad Indian market. To exploit the huge potential of Indian market, they are targeting the youth.