Israeli embassy car blast: Probe on, Delhi on high alert  
New Delhi, Mon, 13 Feb 2012
NI Wire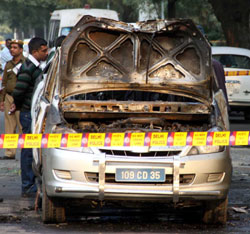 A blast in Israeli embassy car in Delhi has left four people, including a woman diplomat, injured as the city police have stiffened security measures. Initial investigation has revealed that two people riding on a motorcycle placed some foreign substance on the embassy's car when it stopped in traffic, which caused the explosion.
Soon after the blast, government officials have reported that at about 3.20 a Toyota Innova car of Israeli Embassy bearing number '109 CD 35' caught fire near Aurangzeb road crossing. As per initial reports, a foreign substance was attached to the rear of the vehicle, even though it was earlier suspected that the blast was caused by a CNG cylinder.
Delhi Police Special cell is investigating the case and the Central Forensic Science Laboratories (CFSL) is examining the burnt car for more evidence. While the condition of the lady diplomat is reportedly serious, the other three people have sustained minor injuries and have been admitted in the Ram Manohar Lohia Hospital.
Meanwhile, Israel is treating this as a terror attack and its Prime Minister Benjamin Netanyahu on has blamed Iran for attacks on Israeli embassy staff in Georgia and India. He said in a statement: "Iran is behind these attacks and it is the largest terror exporter in the world."
The Government of India has condemned the incident and assured Israel that the incident is going to be fully investigated and the culprits will be brought to justice at the earliest.
External Affairs Minister S.M. Krishna on Monday said the law of the land will take its own course and the culprits will be brought to justice. "I have just spoken to the Israeli Foreign Minister and I have re-assured the Israeli Foreign Minister that the investigation has already started and we will continue with it and then keep him posted as and when we get progress report of the investigation," he added.
As of now, the police have not reached to any details as to who was behind the attack. However, investigating officers are also trying to track down the motorcyclists, who were spotted near the spot soon before the car burst into flames.
New Delhi has been put on high alert with extra security outside every embassy and also offices in other parts of the country. Police has placed check posts in some of the sensitive points especially border of national capital region to monitor suspicious movements.