UP Polls: second phase voting continues amid tight security
Lucknow, Sat, 11 Feb 2012
NI Wire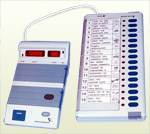 The second phase of Uttar Pradesh (UP) Assembly Election 2012 for 59 seats spread in 10 districts begins Saturday morning amid tight security that will decide the fate of 1,098 candidates including two state presidents, 31 MLAs and 24 former ministers.
The voting kicks off at 7 a.m. at over twenty thousands polling booths across 9 districts - Sant Kabir Nagar, Maharajganj, Gorakhpur, Kushinagar, Deoria, Azamgarh, Mau, Ballia and Ghazipur - amid tight security, as several criminal turns politicians are in the election fray and most of the districts are touching Bihar's border.
According to electoral official sources, over 120,000 officials including 55,000 paramilitary forces and 10,000 Provincial Armed Constabulary personnel have been deployed at 20,425 polling booths of 12,995 polling centres to conduct smooth voting.
There are a total numbers of 1.92 crore comprising 105 lakhs male and 87 lakh women electorates in 59 constituencies, official added.
A total number of 20,800 electronic voting machines (EVM) have been set up at 20,426 polling stations, official informed.
The major faces, exercising their fate in this phase of elections including Vidhan Sabha speaker Sukhdeo Rajbhar, Revenue Minister Phagu Chauhan, BSP state president and cabinet minister Swami Prasad Maurya, BJP state president Surya Pratap Shahi, Deputy Speaker and leader of SP Ambika Chaudhary, former BSP leader and now NCP candidate Fateh Bahadur Singh, Naresh Yadav, son of MP Governor Ram Naresh Yadav, Yogendra Yadav, nephew of MP Ramakant Yadav, Aman Tripathi, son of SP MLA Amarmani Tripathi, who is facing jail term in poetess Madhumita murder case, and criminal turned politician MLA Mukhtar Ansari (from Kaumi Ekta Dal) along with 31 MLAs and 24 former ministers are in this fray.
According to official sources, a total 3,265 polling booths have been identified as sensitive and 9,971 as hyper sensitive while total 1098 candidates are in fray, including 1,021 men and 76 women.
The maximum number of candidates (31) is contesting at Gorakhpur Urban constituency while Saidpur has the least (10).
In last assembly election (2007), Bahujan Samaj Party (BSP) had won 29 seats while Samajwadi Party (SP) had won 20 seats. Bhartiya Janta Party, which was once dominating here came at number three by securing only six seats while the party in the centre could only win two seats. The independents won two seats.
The ruling BSP, the opposition SP and the Congress are contesting on all 59 seats while BJP has fielded candidates at 55 constituencies and the Nationalist Congress Party (NCP) are contesting on 20 seats.
In the first phase, a high 62 percent voting was held on the 55 seats on February 08.
The last phase of the elections will be held on March 3 and the votes counted March 6.