Pak SC rejects Gilani's appeal; can face contempt of court charges
Islamabad, Sat, 11 Feb 2012
NI Wire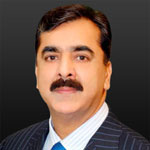 Pakistan's Supreme Court on February 10 rejected Prime Minister Yousaf Raza Gilani's appeal, seeking to withdraw 'contempt of court' charges, which SC has levelled against him for not taking steps to probe Pakistan President Asif Ali Zardari for alleged corruption charges despite court's repetitive order.
Rejecting Gilani's appeal, an eight bench judge headed by Chief Justice Iftikhar Muhammad Chaudhary Friday ordered Gilani to appear before the court on February 13 to face indictment for resisting the court's orders in which Gilani was directed to write a letter to the Swiss authorities requesting them to re-open graft cases against President Asif Ali Zardari.
"The appeal is dismissed and the court can go to any extent to implement its verdict," said Chief Justice Iftikhar Muhammad Chaudhary.
Earlier, Court had summoned Gilani to appear before court on February 13 to face 'contempt of court' charges for not writing a letter to Swiss Authorities.
The Court had ordered Gillani to do so in 2009. But, Gillani allegedly withstands the court order through a variety of delaying tactics, that's made the Court to summoned Gilani to face the case of 'Contempt of Court'.
Prime Minister thorough his counsel has filled an appeal seeking to quash 'contempt of court order' before the court, but the bench of justices strictly ruled out it quoting that the court undermine itself if it doesn't ensure compliance.
"The order is found to be strictly in accordance with the law and principles of criminal administration of justice and therefore no interference is called for," Justice Chaudhry stated this by adding, "No one wants unrest. We are exercising restraint."
The legal experts now believe that Prime Minister has no option but to write a letter to Swiss authorities or appear before the court.
If he is convicted, he may face up to six-month jail and also disqualification from office, experts believe.