Tourism is a Pollution free industry: Meira Kumar
Faridabad, Wed, 01 Feb 2012
Noor En Ahmed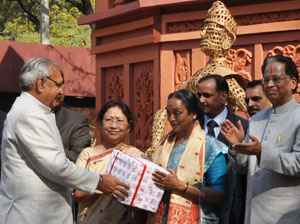 Citing Tourism as a pollution free industry, Lok Sabha Speaker Meira Kumar today stressed on the need of boosting this industry multi-fold.
"There is no pollution in this industry while other industries leave waste water, fumes, and other hazardous by products after manufacturing anything," said Meira Kamar today after concluding the opening ceremony of 26th Surajkund Craft Fair, Faridabad, Haryana.
Meira Kumar, who inaugurated the famous national handicraft fair today morning, appreciated the performance of the artists, event organizers, and ministry of tourism for organizing this fascinating fair that is gaining popularity year by year.
Hailing the strategy of fair organizers Meira Kumar said, "I am pleased that no plastic bag is allowed in this fair."
Earlier, speaking on the same event, Union Tourism Minister Subodh Kant Sahay stressed on the need to boosting this industry and said that there is a huge scope of employment in this industry.
"Government is considering to boost this industry as with this industry, India's economy growth can be raised. There is also a scope of 6-lakh new employment in this industry."
Chief Minister of Haryana, the hosting state said that with the rising popularity of Surajkund national fair in the world and increasing the number of foreign partners and participants, state governing has decided to renamed it Surajkund International Craft Mela.
He thanked to all participating states, nations and visitors for making this fair so popular.
Tarun Gogoi, the Chief Minister of Assam, which is the co-partner of 26th Surajkund handicraft fair highlighted the cultural diversity and unity of India and said that it is the cultural fairs and cultural programs that works as a bridge between two nations.
Appreciating about India's strong bond of cultural integrity, Gogoi added that India is the only country in the world, which has so many states, culture, languages, religions and castes, however, we are united because of our strong culture.
Relating himself to Thailand, the co-partner of 26th Surajkund Craft Fair 2012, Gogoi said, "I have a very old relationship with Thailand, as I came from Thailand and settled in Assam, India many years ago and became an Assamese."
Inviting to the participants in Assam, Gogoi stated that Assam is a rich cultural state and all of you are welcomed in our sober and simple state.
Earlier, State's Tourism Secretary Ram Kishan Fouji giving the detail about the 26th Surajkund Craft Fair said, "This year, we have expanded the area of Surajkund Fair and number of foreign partners have also increased to 12."
"Every year, as much as 1-million visitors visit here and this year, the number of visitors likely to increase and touch 1.2-million mark."
Giving the USP of 26th Surajkund Fair, Tourism Secretary said that till now only SAARC nations and neighbouring countries were participating in the fair but this year, an African nation Congo was participating for the first time.
Speaking about the facilitation available in the fair for the visitors, Ram Kishan said that several stalls were made for selling the tickets and e-ticket facility was also available who wants to buy it from the internet.