26th Surajkund Crafts Mela 2012 begins with a colorful note
New Delhi, Wed, 01 Feb 2012
NI Wire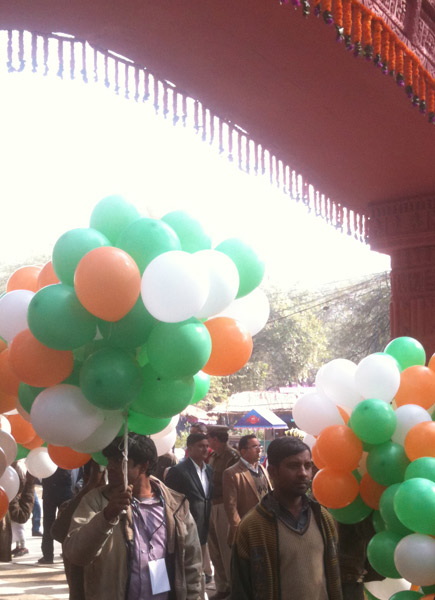 The much-awaited Surajkund Crafts Mela representing the handloom and handicraft traditions of rich Indian cultural heritage is to begin today with Aasam as the theme state for this year.
Surajkund mela was first started in 1987 and is celebrated every year during the spring season, from February 1 to 15, at Surajkund located in Haryana, India. The fair is aimed to give an exposure to the traditional art of handloom and handicraft of the country. Traditional craftsman (artists, painters, weavers and sculptors) from all parts of the country participate in this annual celebration and the creations of 50 best designers and craftsmen in wood, metal, bamboo, iron, glass, textiles and stone can be seen at the same place in this mega event. This event has been a great success year after year and helps to promote the traditional art at an International level. The primary objective of this annual event is focused on:
To provide a rural ambience for the foreign and domestic tourist to see.
To educate the visitors, both domestic and foreigners, along with the urban centres and educational institutes about the unique and fascinating technique and skills involved in craft creation.
To bring about the crafts, craftsperson and buyers in a same platform for interaction and help them find their patrons.
To Identify, nourish and protect the fading the traditional art of crafts of the country to posterity.
To execute and display the skills of the dexterous folk painters, metal workers, stone and wood carvers, tie dye craftspersons, embroiders, lace makers, textiles printers, carpet and loom weavers, producers of silk fabrics, jewelers and sculptors of the country along with the Suraj Kund which is a beautiful tourist location of Haryana Tourism
With the brief introduction of spring after the winter, National and State awarded craftpersons from every part of the country heads towards Surajkund to showcase their talent and creations.
With Aasam as the theme state for this year, the major highlights for this year will be Northeastern state's culture and way of life through dance forms and cuisine. In addition to that a special Assamese fireworks display has also been organized. This year, with 11 international stalls, Thailand is also participating as a partner nation along with Afghanistan, Uzbekistan, Sri Lanka and Congo and ones from SAARC will also showcase their crafts for the first time in the mela.
The major highlights of the 26th Surajkund Crafts Mela 2012 mela will be:
The Craftsman from all over the country, SAARC and other neighbouring countries would be displaying asn selling their best Handlooms and Handicrafts items.
Assam is the Theme State of 26th Surajkund Crafts Mela 2012,which is known for rice Granary of India, monuments,handicrafts, handloom and cusines.
Exporters and Buyers direct Meet has been organised at Surajkund Design Galleries with the help of DC Handlooms and DC Handicrafts.
Food Court with variety delicious food items from Indian and SAARC countries.
An Amusement Zone has also been made with various playful rides and swings.
Folk and traditional Dances will be performed by Schools and Colleges students at Chaupal daily from 11 a.m. onwards.
Moreover, special attention has been paid for maintaining hygiene this year. For this, two fully automated electronic toilets have been set up. Use of plastic and polythene inside the premises is prohibited and special arrangements have been made for the sale of non-plastic carry bags by the regulatory authorities.