The 'Edible Flower Food Festival' to be held in Kolkata
New Delhi, Sat, 17 Nov 2012
NI Wire
null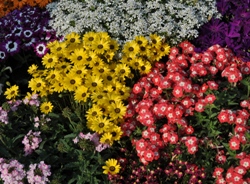 Food lovers can now detoxify themselves with delicious dishes prepared with flower extracts, herbs and fruits in a unique food festival in the city of Kolkata. The 'Edible Flower Food Festival' will be the first of its kind ever in India and will be held at The Sonnet hotel Nov 23 to 25 this year.
Both the vegetarian and non-vegetarian menus will be lashed with delicious food items including herb infused fresh fruit salad with cinnamon and rose extracts and braised chicken salad with grape juice, flowers, fruits and herbs.
"The use of floral extracts along with herbs and fruits makes meat dishes ideal for the health conscious," said Niladri Chakraborty, the hotel's corporate chef.
"Diabetics can try these. The only oil we have used is olive oil and in minute quantities," he added.
The fabulous dishes will contain extracts of tulip, pansy, rose, lily and blossoms of basil besides chive, banana, fennel, clover, mint, passion flower, rosemary, thyme and lilac.
The flowers are used in various forms like plucked, powdered or as liquid extract.
"When you eat the items, you will get a range of aromas ?? from sweet to salty," said Chakraborty.
In addition to the floral components, there are various herbs and fruits to stimulate the flavours and also provide medicinal benefits.
"Chive blossoms are useful in preventing anaemia while pomegranates prevent blood clots. All the individual components have benefits," said Chakraborty.
The dishes could be made at home too, he added.
"They might take a bit of time but they are easy to prepare. Most of the ingredients are easily available. If people can try these dishes off and on at home, they will live longer," said Chakraborty.
-With inputs from IANS
null