President Mukherjee to inaugurate the 32nd IITF 2012 in New Delhi
New Delhi, Wed, 14 Nov 2012
NI Wire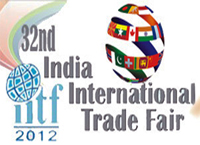 President Pranab Mukherjee will inaugurate the 32nd edition of India International Trade Fair (IITF) at Pragati Maidan in New Delhi today.
IITF is one of the largest trade fair of the world which happens every year from 14th Nov to 27th Nov. This year too, it is going to kick off today within few minutes with the inauguration by President Mukherjee.
The theme of this 32nd edition of IITF is skilling India as in this show, you can see the handicrafts and rural arts and skill development to youth programme.
Prime Minister of Belarus Mikhail V Myasnikovich will be the Guest of Honour at the ceremony. Belarus will be the partner country of the fair, while South Africa has been chosen as the focus country.
Prime Minister Myasnikovich will also inaugurate a Belarusian pavilion at the fair.
In the state category, Uttarakhand will be the partner state and Andaman and Nicobar Islands as the focus state.
The fair will be thrown open to the general public from November 19, as first four days have been solely reserved for exclusive interactions between the manufacturers, traders and exhibitors and the buyers.
The prime focus will be on the Hall no.1 that is focused in skilling India under the various government Departments, Ministries, States and important private sector players.
The product profile of IITF 2012 include Cosmetics, Healthcare products, Service sector, Consultancy services, Consumer Electronics, Home & Kitchen Appliances, Fitness equipment, Optical and Eye care products, Textiles, Jute and Coir, Leather Goods, Footwear & Travel Goods, SARAS (rural art and craft products), Banks, Insurance, Financial Services, Processed Food & Agro Products, building Industry products, products from Small and Medium size Enterprise, products from Khadi (KVIC), Ministries & Government Departments and various products from Foreign Countries.
IITF has been declared as no-smoking zone.
Besides trade fairs you can also enjoy the various cultural programs scheduled to be held everyday at various venues.
Facilities and Services:
International Business Lounge: Gate-1
Business Visitor Registration Centre: Gate-1,2 & 10
Business Visitor Ticket: Rs. 400
Seasonal Ticket: Rs. 1500
Ticket for general public
Working Day Adult: Rs. 50
Child 5-12 year: Rs. 30
Weekend and Holidays (Saturday/Sunday and Holidays): Adults Rs. 80
Children 5-12 year: Rs. 50
Announcement at Central Control Room Hall No.1
Announcement fee: Rs. 20
Ticket Outlets
Metro Railway Stations
ITPO Counters
Gate 1&2
Timing for Sale of Tickets:
Weekdays 9.30 a.m. to 5.00 p.m.
Holidays 9.30a.m. to 1.00 p.m.
Free Entry : Senior Citizens/Physically Challenged-on proof.
Note: No free/concessional entry to Students/Groups
There will be no advance booking of tickets.
Entry Timings:
Entry to Pragati Maidan: 9.30 to 5.30 p.m.
Round Robin Bus Service: DTC Low Floor Bus 9.00 a.m. to 8.00 p.m.
Park and Ride Bus:
Rajghat to Sarai Kale Khan to Pragati Maidan Gate No. 1,2,3,5 & 7
Pragati Maidan Metro Station to Rajghat
Sunehri Pula-Dayal Singh College to Pragati Maidan-Gate 1
Parking Facility
Delhi Zoo, Bhairon Road
Paid Parking
Pargati Maidan Metro Rail Station, Purana Qila Road
Entry with Parking Label Through Gate 1 only
Exhibitor Parking: Gate 1 & 6
Press Parking: NSCI Purana Qila Road
Parking Rates:
Bus/truck(Bhairon Road) : Rs. 350
Car/Jeep/Van : Rs. 125
Scooter/Motorcycle: Rs. 50
Bicycle: Rs.2
First Aid and Ambulance Service: Dispensary Hall-19
Other Centres: Near Hall- 6 & 14
Security Services: Security Office ITPO Building
Police Assistance: Gate 5
Fire Services: Near Hall 12
Security:
In addition to above ITPO Security Gaurds, Five Gaurds and Policemen will be available in and around all the exhibition Halls.
Hall Wise Product Profile
Hall Number 1 Foyer
THEME– "SKILLING INDIA"
1 Front: Textiles, Jute and Coir, Leather Goods, Footwear and Travel Goods, Artificial Jewellery
1 Rear: Kitchen & Home Appliances, Kitchen Hobs & Home Décor, Decorative Items, Stationery, Kids Items And Toys , DIY Tools,
Hall No. 02 : Chhattishgarh State
Hall No. 3 & 4: HUDCO, Food, Processed Food and Agro Products
Hall No.5: Jharkhand State
Hall No.6: Government and Foreign Participants
Hall No.6 Mezza: Uttarakhand State
Hall No.7 ABC (AC Halls): SARAS – Display by Council for Advancement of People's Action and Rural Technology (CAPART)
Hall No. 7 D (AC Hall): Department of Social Justice
Hall No. 7 E (AC Hall): Department of Water Resources
Hall No.7 FGH (AC Halls): Ministry of Micro, Small and Medium Enterprises (MSME)
Hall No. 8 (AC Hall): *Product Launch
Hall No. 9 (AC Hall): Handicrafts, Paintings, Crystal Glassware & Bone Chinaware, Corporate Gifts
Hall No. 10 (AC Hall): Building Industry, Reality and Services Sector, Banks, Insurance, Financial Services, Consultancy Services etc.
Hall No. 11 (AC Hall): Cosmetics, Healthcare Products, Opticals and Eye care.
Hall No. 12 (AC Hall): Cameras, Watches, Laptops, Desktops, and Computer Hardware, Software, Mobile phones, Electronic Storage Devices, Video Games, Electronics related chain stores, Gold, Silver, Platinum and Precious Stone Jewellery.
Hall No. 12 A (AC Hall):
Consumer Electronics and White Goods like Fridge, Washing Machines, Electronic Safes etc.
Hall No. 14 (AC Hall): TECHMART- Display by National Small Industries Corporation (NSIC)
Hall No. 15 (AC Hall): KVIC – Display by Khadi & Village Industries Commission
Hall No. 18 Ground (AC Hall): Government and Foreign Participants
Hall No. 18 Upper (AC Hall): Government and Foreign Participants
Hall No. 20: Government Deptt