November 14: World Diabetes Day and Children's Day
New Delhi, Wed, 14 Nov 2012
Noor En Ahmed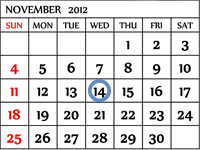 The entire world is today celebrating the World Diabetes Day while India too is celebrating it along with Children's day due to the 123rd birth anniversary of country's first Prime Minister and leading freedom fighter Pandit Jawaharlal Nehru.
Earlier, before the declaration of World Diabetes Day, Nov 14 had been celebrated with joyful and entertaining day as marking Children's day but after the declaration of World Diabetes day, this day has become an acknowledging day.
The rising cases of diabetes in young and children have compelled us to think repeatedly about the future of next generation as according the reports of World Health Organization (WHO), till 2030, diabetes is likely to be an epidemic if it has not been tamed timely and over 8.4% of adult population will likely to suffer from diabetes mellitus.
In India, the problem is more critical, as according to International Diabetes Federation (IDF) there will be over 1billion diabetic patients in India by 2030 in which most of them will suffer from Diabetes Type-2, which is the prime concern for the doctors as it happens due to our sedentary life style.
Forecasting this, today's World Diabetes Day's theme is 'Protect our Future'.
There are various types of known diabetes mellitus but primarily it can be categorized in three types: Type-1 Diabetes, Type-2 Diabetes and Gestational Diabetes.
Type-1 diabetes was earlier known as insulin dependent diabetes as beta cells of the islets of Langerhans in Pancreas that produces insulin hormone becomes failure. In this case, patients needs the injection of laboratory made insulin hormones, which burns the glucose in the blood and produces energy.
Type-2 diabetes occurs when beta cells produces insulin but body cells fail to use it. This is the most common type of diabetes and mostly found in adults but due rising sedentary life style, habits of taking fast foods and junk foods and lacking of physical works are making our prone to our children to type 2 diabetes. The oral intake of medicines is prescribed in this form of diabetes.
Gestational diabetes occurs in 2-5 percent in antenatal babies during the pregnancies. It is curable but needs expert medical supervision throughout the pregnancy. About 20%-50% of affected women develop type-2 diabetes later in life.
If gestational diabetes has been left untreated, the risk chances improves several times in babies and mothers. In babies it can trigger the risks of macrosomia (high birth weight), congenital cardiac and central nervous system anomalies, and skeletal muscle malformations.
Currently, there is no cure of diabetes as no perfect medicine has been invented so far, which can eradicate diabetes from the body, but it can be easily manageable through diets, exercises and medications.
Now, IDF is currently focusing on prevent the next generation from the epidemic of diabetes.
The Juvenile Diabetes Research Foundation (JDRF) says, there are about a million children with Type I diabetes in India.
"Our children are becoming obese. The prevalence of diabetes is on the increase because of increasing weight and lack of activity," he said.
Wondering how children could be encouraged to be more active, the IDF president said: "Where are the playgrounds? How do we motivate our children to lead a healthy lifestyle?"