CM inaugurates new campus for IIITD Delhi
New Delhi, Tue, 30 Oct 2012
NI Wire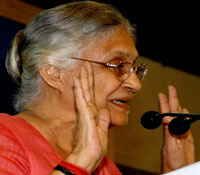 Delhi Chief Minister Sheila Dikshit inaugurated the Permanent Campus of the Indraparastha Institue Of Information Technology, Delhi--IIITD at Okhla, The institue, a state university established in 2008, has been functioning from the NSIT Dwarka.
Inaugurating the green, sprawling and energy efficient building, Smt Dikshit stated that the governmnet is keen to develop this Institue as the world best Institue in IT and allied fields by offering the highly innovative courses with outstanding abilities enebling the students to become innovators and new product creators.
She expressed her pleasure as the best faculty mans the Institue. Smt Dikshit added that, it is a matter of great satisfaction that the Institue is perfect in all respects. The government while drafting the bill of this state university ensured full autonomy for the institute.
However the city government has been helping it as a catalyst and would continue do so to make it the best institue to offer the latest knowledge in the field of IT. It has already earned a special recgnition of being a premeir institue with the modern infrastructure for research.
She announced that the government would support its all research programmes. There would be no dearth of funds for the growth of the institute. She announced that the students admitted to IIITD from Delhi Govt Schools would get free education.
Dikshit also announced construction of an iconic foot over bridge to connect the IIITD campus with Okhla Metro station. The FOB would be constructed over the existing green cover. The Okhla Metro Station is the closest to the campus but the students have to use the Govind Puri Metro Station, which is about 1.5 KM, the commissioning of the FOB would bring the campus close to the Delhi Metro service.