DMRC set to update its alerts, signal and telecommunication system
New Delhi, Tue, 31 Jan 2012
NI Wire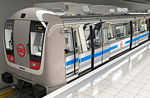 Taking a lesson from yesterday's incident when a toddlers foot was stuck between the doors of the last coach, which was rescued by the guard of the platform, the Delhi Metro Rail Corporation (DMRC) has decided to revamp its alert and passenger information system.
In this move, DMRC has decided to install advanced Passenger Information Display System (PIDS) and update signalling and telecommunication software at Metro stations.
As an immediate measure, DMRC has begun the announcement at platforms through loud hailers about the number of coaches in the next train at Rajiv Chowk and Kashmiri Gate metro station that have highest number of footfalls daily.
This move of DMRC would prove very helpful for the commuters, as with this new system, the commuters will exactly come to know about the exact number of coaches approaching to platform and avoid chaos and confusion among the passengers who rush to board on the train when four-coach train suddenly enters at the platform while passengers position themselves considering the six-coach train.
A senior officer of DMRC has stated on Monday that the advance information will help passengers to plan their positioning on the platform.
"This will require a modification of the sophisticated signalling and telecommunication software, which is being carried out by Alstom in France and Siemens in Germany. This modification is extremely complicated and will take about three months to be implemented," he said.
"The passenger information display systems at Rajiv Chowk and Kashmere Gate Metro stations have started running messages requesting passengers to keep away when the train doors are closing," the official added.
Talking about the more security measures, the DMRC official said that the LCD TVs installed at some select Metro stations - Chandni Chowk, Chawri Bazar, New Delhi, Rajiv Chowk, Kashmere Gate, Patel Chowk and Central Secretariat - will soon flash messages about train doors closing or opening.
'Small films, educating passengers on how to step in and out of the trains in a correct manner to avoid mishaps, will also be screened on these TVs,' officials added.
DMRC has also stated that all Metro passengers were advised to stay away from the train doors once the closing and opening operation commences, and not to interfere with any object at the time of closing the doors.