Paul McCartney is set to compose music for video games
London, Tue, 31 Jan 2012
NI Wire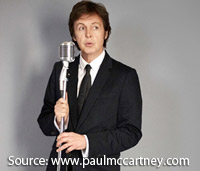 London, Jan 31:
Sir Paul McCartney, the English music veteran is all set to move a step ahead and capture the heart of his new generation fans by composing music for a video game.
Sir James Paul McCartney, who is known for his excellent achievement and contribution to the English music as musician, singer-songwriter and composer has been listed in Guinness World Records as the "most successful musician and composer in popular music history", with 60 gold discs and sales of 100 million singles in the United Kingdom alone. Born on 18 June 1942 in Walton Hospital in Liverpool, England, McCartney has been named as "greatest composer of the millennium" by the online readers of BBC News. 'Let 'Em In', 'Nineteen Hundred and Eighty Five', 'Uncle Albert/Admiral Halsey', 'My love' and 'Jet' are some of his greatest compositions.
Now he will try his chance in composing music for video games as he thinks that computer games are more frequent in sale than the conventional albums now a day.
The Beatles legend admits that he jumped at the chance to compose tracks for the project as he's convinced computer games now sell more quickly than traditional albums.
"It's a fascinating market. A new computer game sells so much better than a new CD these days. Young people will hear my music for the first time in a game," McCartney said.
Earlier also, McCartney has worked in this field in 2010 when he and his Fab Four bandmate Ringo Starr launched The Beatles: Rock Band game together.
-with inputs from ANI