Itra and Sugandhi Mela concludes on Sunday
New Delhi, Mon, 30 Jan 2012
Noor En Ahmed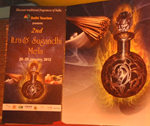 The 'Itra and Sugaandhi Mela', one of its first kinds of natural extracts fragrance fair concluded on Sunday with cultural programme and prize distribution program.
The fair that kicked off at Delhi Haat, Pitampura on 26th January 2012 concluded on 29th January at 9:00 p.m. after distributing the prize to the best stalls, best slogan writer, best dancer, best singer and many other categories.
The fair was organised by Delhi Tourism in technical collaboration with Fragrance and Flavor development Center, Kannauj under Ministry of Micro Small and Medium Enterprises, Govt. of India, with support of Essential oil Association of India, New Delhi and Fragrance and Flavor Association of India Mumbai and Attar & perfumes Association, Kannauj.
In the four-day fair, thousands of fragrant lovers visited to Delhi Haat and not only purchased different kinds of itra (herbal perfume) - the non-alcoholic flower's extract and Sugandhi (scent) - the fragrant decoction extracted from the plant, but also enjoyed the different types of cultural programmes and competitions, organized at venue.
There were around 40 commercial stalls were arranged that sold a variety of aromatic products including nostalgic agarbattis, dhupbattis, essential oils, perfumes, room fresheners, scented candles, rosewater itra, crockery, roasted namkeen, cosmetics, and other scented products.
The demonstration of rosewater extraction, and itra extraction were also gone on in the fair. Several lectures over the history of itra and scents, the opportunity in this field as a business and employment and its Indian and overseas market were delivered, so that visitors can get awareness about this industry.
The history of Itra and scents in India is 5000 BC and Kannauj has been the capital of itra industry since long time.
At present, it was claimed that the current Itra and Sugandhi market is over Rs. 300-400-crore and there is a great chance to expand this industry across the globe.