Nearly 65% voting in Punjab and 70% in Uttarakhand
New Delhi, Mon, 30 Jan 2012
NI Wire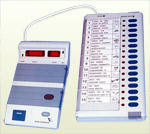 After concluding the voting in Manipur on Saturday, today voting exercise went on in two states - Punjab and Uttarakhand as a part of assembly election. According to official sources, as much as 65% of voting is registered in Punjab while the news reports from Uttarakhand stating the 70% voting cast.
At present, BJP is the ruling party in both states and it is a tight fray for BJP and its opponent congress, as it may decide the fate of central government.
With today's exercise, the fate of 1866 candidates in both the states (comprising 1078 contestant contending for 117 seats in Punjab and 866 in Uttarakhand fraying for 70 seats) has been sealed in the ballot box which result will come out after counting of voting scheduled on 06 March 2012.
There were 19,841 polling stations across 22 districts made for exercising the vote for 1.7-crore electorate in Punjab while 63-lakh electorate had the rights of casting vote in Uttarakhand.
According to reports, the voting exercises were slow in the morning in both states due to severe cold, but as the day progressed, the casting speed brisk.
The voting concluded peacefully in Punjab except few minor news of clashes came from Ludhiana, Bathinda and Amritsar districts. BJP Yuva Morcha General Secretary Sanjay Kapoor received minor injuries in a clash in Ludhiana, election official informed to media.
In Uttarakhand, the confirmed news from all the districts are yet to come.
The main contestants in Punjab are: Chief Minister of state Prakash Singh Badal, his deputy and son Sukhbir Singh Badal, former minister of state and congress candidate Capt. Amrindar Singh, his wife and Union Minister Preneet Kaur, Raninder Singh, former chief minister Rajinder Kaur Bhattal, former Punjab top cop PS Gill, former Principal Secretary to the Chief Minister DS Guru and former SGPC chief Bibi Jagir Kaur.
In Uttarakhand, the main contestants are: Chief Minister of state Bhuwan Chand Khanduri, former Chief Minister Ramesh Pokhriyal Nishank, assembly speaker Harbans Kapoor, leader of the opposition Harak Singh Rawat, and PCC chief Yashpal Arya.
In Punjab the ruling BJP and Siromani Akali Dal (SAD) have 68 seats (SAD 49 and BJP 19) while opposition party have only 44 seats while remaining five seats are from independents.
In Uttarakhand, the BJP had won 36 seats in 2007 assembly election while opposition party Congress secured only 20 seats, BSP 8 and UKD 3 and independents won 3 seats.