McDonalds tasteless Twitter campaign
New Delhi, Sat, 28 Jan 2012
NI Wire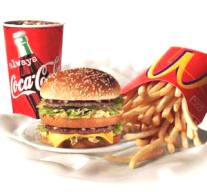 The recent McDonald's #McDStories Twitter campaign shows that social media is not all good in comparison to traditional marketing. Those who are in business for long and believe that they may have earned both positive and negative reviews from consumers should trade wisely.
On one hand, social media has made marketing very easy bringing anything and everything to the doorstep of users within a seconds of time; on the other hand, it has also gave enough space for consumers to reach back to the seller in a flash.
Online networking websites like Facebook, Google+ and Twitter are some of the key social media players with most number of users. Unlike Facebook, Orkut and MySpace where people usually log in to communicate with a circle of friends, the microblogging website Twitter is now becoming more business friendly.
More and more people are joining Twitter to promote one thing or other; however, very few have the knowledge of using social media for business purposes. Let's have a look at what exactly went wrong in McDonald's Twitter campaign.
In an attempt to highlight the genuine effort of its trusted suppliers and healthy ingredients, McDonald promoted a hashtag #MeetTheFarmers which received a good number of positive reviews. But as soon as the company's social media director toggled to the new #McDStories which was well intentioned to garner more positive responses, the story all went wrong.
Well, it's Twitter where users spent no time tweeting on whatever they come across. After all, they only need few words to make their voice heard. Tweeter users started posting many horrible stories starting from simply the quality of food to cleanliness of stores. Certainly, this is not what the company's social media strategists had ever dreamt off.
The switch from one hashtag to other changed the whole marketing campaign. Here the question is does the food chain have any idea in what kind of marketing they are trading into? Well, they may have; but somehow they ignored the fact that there are a large section of people critical about the healthiness of their product.
Therefore, Twitter is certainly not the space to come and implement your traditional marketing skills with ambiguous promoted topics. And this applies for companies like McDonald that strongly earns different opinions. When we say 'ambiguous topics', it means there is no specific objective or target audience. #MeetTheFarmers was more specific while the #McDStories attracts a wider audience.