Not all in favour of lifting of Burma Sanctions
New Delhi, Sat, 28 Jan 2012
NI Wire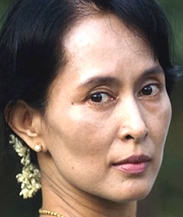 In an unprecedented development the Obama administration has signaled easing of sanctions against Myanmar. However, few right groups have urged international community not to remove sanctions until the Burmese government has released all political prisoners.
Recently the military-backed government of long strife-turn Myanmar (also known as Burma) has shown its interests towards a series of reforms in order to bring back maximum normalcy and people's participation towards democratic activities.
Even though these reform programmes have been seen as positive step towards liberal democracy, mixed economy and political reconciliation, right groups in the country have urged the international community not to remove sanctions, as there are many more political prisoners still in prison.
They have argued that even though the military backed government is making steps that can be termed as people oriented and democracy friendly, there is a long way to go as far as peace and human rights are concerned.
While international aid organisations, including United Nations Development Program's (UNDP), are also looking for lifting of sanctions as vital for many development programmes, the right groups are of the opinion that government should first release all political prisoners, allow citizen to set up human rights organisations and achieve nationwide peace.
In January this year, after two quick instances of prisoner amnesty, Amnesty International has opined mixed response saying, "the release of political prisoners is a major step forward, but the gates must be opened even wider to all remaining prisoners of conscience."
It has also expressed concerns over the reports that some prisoners had conditions attached to their release. The human rights watchdog had also organised a petition between 17th October and 4th November 2011 calling for the release of all prisoners of conscience in Myanmar.
As per published figures, there are more than 1600 political prisoners and journalists yet to be released. Lately, Burma's president Thein Sein has called for a speedy lifting of sanctions after his government freed hundreds of political prisoners, including the pro-democratic leader Aung San Suu Kyi and also allowing her to contest in the upcoming election.
Aung San Suu Kyi has also registered to run in the Myanmar by-election as the government has abolished the law that has barred her party National League for Democracy (NLD) from political activities. The 66-year-old Nobel Peace Prize winner also hopes that even though the country has not reached at the point for any great transformation, they have a rare opportunity to reach such a point.
In another recent development that prompts many to hope for all positive change in Myanmar, the Burmese government has signed a ceasefire agreement with the country's ethnic Karen rebels, taking a major step forward to end one of the world's longest-running insurgencies and meeting a key condition for better ties with the West.
Under these developments, and of course after the visit of United States Secretary of State Hillary Clinton in December 2011, it is expected that international community including US may consider removing few sanctions if not all.
Nevertheless, it can be said that not all are in favour of lifting of Burma sanctions. Even US Senator John McCain has said that the Obama administration should not rush to lift sanctions against Myanmar until it sees the results of a parliamentary by-election planned for early April.