Govt. issues two tax-free bonds; good opportunity for the investors
New Delhi, Fri, 27 Jan 2012
NI Wire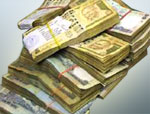 The High net worth Individuals (HNIs), trusts and firms who do not want to take higher risk can cash the opportunities of two government tax-free bonds – one from Indian Railway Finance Corporation Limited (IRFC) and second from Housing and Urban Development Corporation Limited (HUDCO). The issues open on January 27 and closes on February 10.
These bonds will be absolutely tax-free means it would attract no tax on its interest and you will get the tax-free return. Tax-free bonds are different from Tax-saving bonds. In tax saving bond, the earning interest up to 20,000 can reduce your tax liability equal to earned interest but it attracts tax on earned income.
IRFC, the financing arm of Indian Railways today open an issue of Tax Free bond. The credit rating agencies Crisil, ICRA and Care have given top rating to the bond means the bond has highest degree of safety. Crisil has rated 'AAA/Stable', ICRA 'AAA' and Care too rated 'AAA'.
The face value of these bonds is Rs.1000 and any investors would have to purchase at least 10 issue in a lot. The further lot is a bunch of 5-issue bond. In simple, the individual investors would have to invest at least Rs.10,000 for the first lot and further lots can be purchased in the sum of Rs. 5000.
With this bond, IRFC is eyeing to collect Rs. 6,300-crore from the market. The investors can select two options – investment for 10-years and for 15-years. The bonds with 10-year maturity carry a coupon rate of 8% per annum, while 15-year papers will have an 8.10% per annum coupon rate.
For retail investors the coupon rate is 8.15% and 8.30% respectively and upper cap is Rs.5,00,000.
Similar, the HUDCO's bond is also tax free and equal maturity periods. But the coupon rates are slightly higher to that of IRFC.
HUDCO is offering the coupon rate at 8.10% per annum for 10-year bonds and 8.20% per annum for 15-year bonds.
The retail investors will get an additional coupon rate of 0.12% per annum over the FIIs rate. The upper cap is also limited to Rs.5,00,000.
However, the credit agencies have rated it slightly riskier bond in the comparison to IRFC's.
With this fresh bond, HUDCO is targeting to collect up to Rs.4,684.72 crore from the market.