PMO opens account on Twitter
New Delhi, Wed, 25 Jan 2012
NI Wire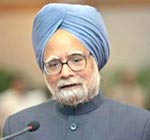 In the move of making communication to the youngsters and internet users Prime Minister's Office (PMO) has joined the Twitter, a microblogging site where you can text only by 160 characters, on Monday.
With this innovative step by country's top office, PMO account got 6000 followers within one hour of opening the account.
Congratulating to children who won the bravery award for 2011-12 PMO head Prime Minister Manmohan Singh twitted, "You make all of us proud."
Earlier, opening the account PM's newly appointed communication advisor Pankaj Pachauri first tweeted, "PMO is now on Twitter... Thank you".
On Tuesday PM tweeted five times and got 13,000 followers.
Several leaders in the leading countries have an account on twitter to make awareness about their works among general public in which US President Barack Obama is the most successful leader, as he has over 12 millions followers.
PMO has got mixed response over this step. Some has appreciated PM's step to join twitter as PM usually avoid media and personal interview. With this step, he can make awareness about the new works and decision taken by the government.
But on the other hand, his opponent criticized him too for keeping silence over burning issues and remaining inaccessible to the media.