Time to say goodbye to Obesity
New Delhi, Tue, 24 Jan 2012
NI Wire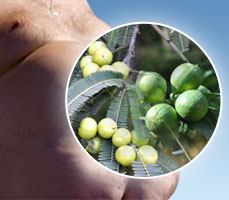 Today obesity is the most discussed and common concern all over the world as it is making the headlines for all the newspapers, magazines and other media due to its increasing extent. Due to unbalanced and irregular eating habits and an unhealthy lifestyle, obesity has become a common problem around the globe these days. Countries of North America, Australia, Europe and most of the developed countries are facing the hazardous effects of obesity predominantly. The severe effects of Obesity results in reduced life expectancy and can also lead to other diseases like diabetes mellitus, hypertension, heart disorders, gall bladder disorders and even certain forms of cancer.
If we look on the statistical data of obesity in the world, it is really horrifying. The number of obese person in the world has doubled since 1980. Presently, 65% of the world's population is facing the problem of obesity. According to a survey in 2008, 1.5 billion adults of age more than 20 years were overweight out of which 300 million were women and 200 million men. In 2010, 43 million children were found overweight that too in a age of 5 years.
Obesity is a physical status when the body accumulates excessive fat resulting in adverse health effects. If the increase in the weight of your body is 20% more than the normal weight, it means you are suffering from obesity. This state arises due to intake of more calories than the actual requirement of the body. This can be a result of irregular and unusual eating habits, sedentary lifestyle, insufficient sleep or oversleeping. Moreover, sometimes it is a result of side effects of certain medicines such as birth control pills and menopause.
Though, Obesity has become an epidemic and a serious problem but the treatment is possible if you follow certain things on regular basis. Ayurveda, the ancient medicinal science of India, has given some very successful and efficient remedies to combat obesity effectively.
In ayurveda, 'Charaka' has mentioned eight 'nindya prakruties' (undesirable constitution) according to the body constitution. One of them is obesity, which has been described as 'Medoroga' in ayurveda. Obesity is described as 'Medoroga' in Ayurved. The name signifies that, overweight is a result of increase in the fat component or Meda Dhatu in the body. Moreover, it can also be due to malfunctioning of the same.
In ayurveda, 7 kinds of dhatus has been described that are known to constitute the body. These are: Rasa (Lymph), Rakta (Blood), Maans (Muscle), Meda( Fat), Asthi (Bones), Majja (Nervous System) and Shukra (Reproductive System). In case of an obese person Meda is nourished excessively while other Dhatus remains malnourished. This is due to accumulation of Kapha in between them. When Kapha increases abnormally in the body, Fat metabolism inside the body gets disturbed and person becomes Obese. Ayurveda defines some precautionary measures that helps you to avoid the excessive accumulation of fat in the body. Some of the common recommendations in Ayurveda to overcome obesity are:
Avoid excessive intake of food. Do not eat just after taking previous meal.
Avoid sleeping in the day time and after one hour of your dinner in the night.
Regular exercise like yoga, walking, running, swimming etc. are quite beneficial to avoid obesity.
Avoid sedentary and lethargic lifestyle.
Consuming excess sweets is not recommendable. Eat low fat and skim dairy products. Avoid product like chocolates, ice creams, cheese, paneer, sugar etc. that contains more fat.
Non-vegetarian food like chicken, fishes, eggs, meats etc. should be avoided.
Try to use minimal amount of oil & ghee in cooking. Also avoid using hydrogenated vegetable oils for cooking.
Try to avoid frying things while cooking and try to consume roasted things as far as possible.
Avoid consuming excess alcoholic drinks or water on empty stomach.
Do not take aerated drinks and excess water after meal.
Consumption of fat and carbohydrates should be restricted.
Along with these remedial and preventive measures, ayurveda also provides measures that helps you to treat the fat gained and the defective metabolism that need to be corrected, which is done by Ayurvedic medicines.
Use of ayurvedic formulations like guduchi, devadaru, musta, triphala, takrarishta and honey is highly recommended.
A mixture of yava and amalaka is an excellent formulation for the treatment of obesity.
Shilajita taken along with the juice of Agnimatha is quite effective.
Drinking water mixed with honey daily in the early morning is considered very beneficial.
Powder of Vidanga, Sunthi, Yavakshara, Yava, Aamalaki and Loha (iron) Bhasma is highly recommended in ayurveda.
Thus, with the help of ayurvedic recommendations, you can maintain your weight and avoid the unwanted accumulation of fat in the body very effectively. In addition to that you can avoid many other health problems with are associated with obesity with no side effects.
Read more on Ayurvedic Remedies for Obesity
This content has been purely developed for knowledge point of view and is not an alternative to any medical advice by a medical professional. You are requested to visit a professional physician or health specialist for any medical advice for any medical condition.