Now, Breast Cancer Threats from Supermarket
London, Mon, 16 Jan 2012
NI Wire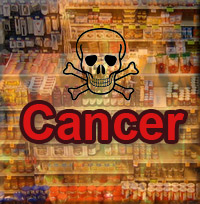 London, Jan 12: Even everyday items can cause cancer as per some expert opinions. These items may contain chemicals that could cause cancer. These causative agents called parabens are frequently used in food, cosmetics and other products used in day-to-day life. Processed meats, pastries, sweets and snacks, facewash, make-up, moisturizers and shampoos all have some parts of parbens. This threat does not end here, as contraceptive, vitamin and mineral pills also have some amounts of parabens that increases cancer-causing hormones in the body.
A large number of British and international brands use parabens that are described on the packet as methylparaben, propyl, butyl or ethylparaben. Underarm antiperspirants or deodorant have cited as reasons for breast cancer for years. This report is based on the finding of Britain's two top breast cancer specialists who did this study on the tumours taken from 40 women. All the samples had
Parabens. The women who had not used the deodorants had been exposed to parabens from commonly used beauty products.
Dr Philippa Darbre, of Reading University led the study assisted by consultant surgeon Lester Barr of University Hospital of South Manchester said that the presence of parabens couldn't be surely termed as the cause of cancer.
"The fact that parabens were present does justify further investigation" she said.
Although these chemicals are artificial, but after entering the body they behave like the female hormone oestrogen, thus increasing the risk of breast cancer.
Parabens are found in almost all the beauty enhancing products like face wash, mascara, moisturizing creams, shampoo, bubble bath, shaving foam and other beauty products.
Parabens are also common in processed meats like ham and sausages. Frequently used pastries, sweets, coated nuts and snacks also have this cancer-causing agent.
--With Inputs from ANI