Racial slur in cricket: a phenomenon
New Delhi, Wed, 09 Jan 2008
Binita Tiwari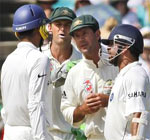 The racial slur has become a phenomenon now a days, which is quite evident with the ongoing Indian tour to Australia as it engrosses and attracts more controversy and less cricket. When there are ample facts to suggest that there is progression in each field, it makes me wonder that what happens to cricket, the game of gentlemen.
No wonder there was speculation beforehand that the so called monkey chants in India by some nasty Indians will surely going to make uproar in Australia, thus when Ricky Ponting said prior to the start of the series, "I'm sure at different times Sreesanth and a couple of the guys will cop a hard time from the Australian public. That generally happens to most teams who tour Down Under at some stage. I just hope and keeps my fingers crossed that no racial stuff at all comes up during the summer.� Ponting made the point as if India would surely face the backlash when they will land in Australia .
Recent happenings in and out of the cricket ground did not surprise many, as it is very much a part of Australian Cricketing strategies but was disgusting and outrageous than usual.
With their accustomed stint the Australian tried to play the mind game, they were successful as predictable but what was shocking was the magnitude and the reckless errors committed by umpires Steve Bucknor and Mark Benson that sailed Aussies through to the Sydney Test.
In addition, the charge of racial slur laid down against Indian offie Harbhajan Singh that he had used word 'Monkey' to Andrew Symonds, during his on-field fracas on the penultimate day of the Sydney Test with the latter, targetting his ethnic Caribbean origin.
The whole scene was emotionally charged, full of spoilsports…no it was not a game but looked more like a war where one side ( Australia ) always justified their behaviour, this is history and it's repeatedly repeated by Australian cricketers time and again.
Australian cricket have winning techniques but their on field behaviour showed that they have still not learn to assimilate their success properly, they are naive to it.
When Anil Kumble told media, "Only one team was playing with the spirit of game,� and that whatever has happened was there for the world to see he was apt at the moment as like Australian team media too was biased which at length was busy criticising Indian team, some went ahead to describe caste based structure of Indian team, but the truth begins surfacing from the rumbles.
Australian media condemned the way Sydney Test was won, Peter Roebuck in Sydney Morning Herald quoted, "Ricky Ponting must be sacked as captain ...Australia itself has been embarrassed…. Roebuck went on saying that Ponting had turned a group of professional cricketers into a pack of wild dogs.�
"It was a match that will have been relished only by rabid nationalists and vengeances are the sole reasons for playing sport.�
One of the main question that has popped up is why Indians are subjected to such racial abuse, is it our attitude and culture that has made us vulnerable?
Things should change, before asking a question we should be able to place the answer. Is it not that we are being paid in the same way we treat others. It reminds me of British who proclaimed the virtues of democracy but at the same time advocated imperialism like the dichotomy in Indians who fought for equality while simultaneously practiced untouchability. If Shilpa Shetty was a victim of such racial remark at Big Brother show, Prashant Tamang of Indian Idol was a victim of such comment in India itself.
But kudos to the solidarity Indian team showed to one of its member and thanks to BCCI for taking the matter seriously, and as a result Bucknor won't be the official umpire on the third Test match starting next week at Perth .
Quotes from Abraham Lincoln's letter to his son's teacher " Teach him to scoff at cynics and to be beware of too much sweetness.. Teach him to sell his brawn and brain to highest bidders, but never to put a price on his heart and soul. Teach him to close his ears to a howling mob…... and stand and fight if he thinks he is right.
Treat him gently, but do not cuddle him, because only the test of fire makes fine steel. Let him have the courage to be impatient.. Let him have the patience to be brave. Teach him always to have sublime faith in himself, because then he will have faith in humankind,� holds significance to present context of sportsmanship.
John Wooden former Basketball player and coach once said "Sports does not build character it reveals it,� yes it brings out the good and bad of you.
Though the pain of such happenings is for sure take some time to settle but there should be a concerted effort by all the concerned people to weed out racial abuse from the sports. Let there be spirit of game running like adrenaline in our mind and soul.