Sabharwal case flames up after CM met accused
New Delhi, Fri, 04 Jan 2008
NI Wire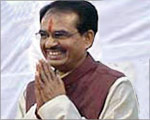 Jan 04: The Apex Court on Friday adjourned hearing on a petition seeking the shifting of the Professor Sabharwal murder case out of Madhya Pradesh by eight weeks.
Professor Sabharwal murder case once again got prominence this time with the Madhya Pradesh Chief Minister Shivraj Singh Chauhan visiting to the Indore hospital and meeting with one of the prime accused in the aforesaid Ujjain college professor's murder case.
The CM's act supplied air to the claim led by Sabharwal's family that there would be no fair trail in the BJP ruling State.
It is to be noted here that the accused Vimal Tomar was member of Akhil Bhartiya Vidyarthi Parishad (ABVP), youth brigade of BJP, which is ruling in the state.
The opposition Congress party demanded resignation of the Chief Minister. Subhash Yadav, State Congress chief alleged that the BJP government was acting under the pressure of RSS and Bajrang Dal in the case.
The CM has violated rules under the jail manual. He can't visit an under trial, who is one of the main accused in a sensitive murder case. It can also influence the trial. We've submitted a memorandum with the director general of jail and demanded that a case be registered against the CM," Congress spokesman Manak Aggarwal said.
On the matter while asked to DG (jail) S K Sharin, said, "The jail manual says chief ministers can't visit an accused in prison, but rule doesn't apply in the case of hospital.�
However, Shivraj Singh Chauhan did not apparently see anything wrong in it and said he had visited hospital for inspection and not particularly to meet Tomar. Meeting with him was as simple as meeting with other patients admitted there. It was surprised visit to the government run M Y Hospital to know the condition there and facilities available, Chauhan said.
Vimal Tomar, one of the main accused among six ABVP activists, and a former leader of the BJP's student wing, ABVP, was shifted to the hospital from Ujjain's Central Jail following complaint of chest pain nearly a week ago.
Sabharwal, a professor at Ujjain 's Madhav College , died on August 26, 2006, after being allegedly assaulted by students protesting the cancellation of college union polls during student body election.