DIAF: Mirroring cultural multiplicity
New Delhi, Thu, 06 Dec 2007
NI Wire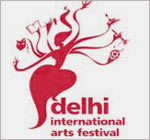 Dec 06: First ever Delhi International Arts Festival kicks off in the capital this Friday
The capital Delhi yet again will lure visitors to this historic city that culminates with all traits of ancient, medieval and modern India with the inauguration of the Delhi International Arts Festival (DIAF). The festival is one of its kinds offering almost all art forms at the same time giving an excellent platform to artists from all across the world.
Starting from this Friday the festival will showcase you some of the best artistic creation with dance, music, films, poetry, performing arts, cuisine thereby making it a complete cultural fiesta. One can expect some fascinating multi-discipline performances with Indian classical dance forms along with western music and other major dance and music discipline.
The event welcomes the world's best in dance, theatre, music, poetry, visual arts, opera, and literature. This is for the first time that the event is being organised in collaboration with the Union Culture and Tourism Ministry, Delhi Government, India Tourism Development Corporation, Indira Gandhi National Centre for the Arts and Sangeet Natak Akademi, a national academy for artistic heritage.
As the capital is the royal stage for centuries and being the cultural epicentre with ancient, medieval and modern touch it is probably the perfect backdrop to stage a number of cultural festivals for people to savour in this festive season.
The unique literary works with a number of book releases, academic gathering and poetry session on the card will not only exhibit some of the excellent literary explication but also various dimensions with international perspectives on various issues.
The uniqueness of this festival is its wide range programmes on different themes that attracts people from all age and hence will be a gathering of different kind.
So here's this for the very different breed with aesthetic senses and ready to let yourself free only to discover the affluence of colours of arts, do make a stroll to enjoy every bit of it.