Is India a secular country?
New Delhi, Mon, 26 Nov 2007
Vikash Ranjan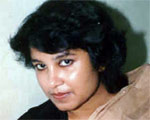 Nov 26: It is the unfortunate zenith of our paradoxical belief when we feel proud on saying ourselves the secular, democratic country. How far a country has the legitimate right to be called a secular when it cannot provide a safe and secure place to a prominent Muslim author? Do we justify the statement, "we proud to be an Indian"?


The way controversial author Taslima Nasrin was threw back by the CPM led Bengal government to Rajasthan is very surprising as well as shocking. First, the Rajasthan government was not informed beforehand by Buddhadeb Bhattacharya, the Chief Minister of Bengal on sending such a sensitive author there, as it is against the basic decency and protocol. Secondly, instead of providing security to the author, she was forced to leave Kolkata, which she still considers her homeland after Bangladesh.
Earlier Buddhadeb Bhattacharjee had rolled back his "Taslima can come back" statement. So naturally Left party is not trustworthy.
The contemptuous appeasement of Muslim fundamentalists by the political parties be it the then Congress government in the case of Shah Bano or the banning of Salman Rushdie's "The Satanic Verses" to the ill-treatment of the Nasrin by the Left Front government in the West Bengal. Don't these acts signify that today's politics violating fundamental principle of constitution by diverting from "secular" to "minority"?
Neither we can expect everyone to endorse our opinion nor can we force him or her to do so. Simultaneously all of us have the right to have individual opinion, keeping in mind not hurting to other feeling. But if a persecuted author with an unorthodox opinion can't find a safe and sound home in this democratic country, what does it tell us about the country we live in. Certainly without hesitation notwithstanding of all our pretensions to culture, liberalism and belief in democratic debate we care little for writers and dissenters.
Fundamentalists have ensured that no matter where Nasrin goes in India- east (Kolkata) Hyderabad (south), Rajasthan (west) or Delhi (north) – she is booed and hissed at with a clear message that nobody wants her here.
Some of the influential political parties grouped under United Nation Progressive Alliance (UNPA) also have denounced Nasrin's anti – Islamic writing with an eye on Muslim vote.
THE UNPA leaders including some liberal faces of the Muslim community as former Chief Minister Farooq Abdullah, bluntly told Nasrin not to misuse her political asylum in India to hurt the sentiments of Muslim.
In reply to the aforesaid allegation Nasrin said, "I am a Bengali and Bengal is my home and feel calm at home in Kolkata". Further she added, "I am not a political person. I am an ordinary human being, who writes for equal right. I don't write about religion. I write about human rights, women rights and secular humanism."
Gulab Chand Kataria, Home Minister of Rajasthan criticised the alleged double standard followed by the state government. They claim they are secular and the BJP is communal. Still they had to depend on the communal BJP for the safety of a person who is being hounded by fundamentalists.
The main opposition party BJP is ready to corner congress led UPA government as well as the Left led West Bengal government. There is no denying the fact congress and Left government has dumped Taslima to keep Muslim vote intact.
Nasrin is no longer first time victimisation of Kolkata police. Her long tale of victimisation started in 1993 immediately after the publication of "Lajja" (Shame), which highlighted the evils of state-sponsored persecution and the mistreatment of the Hindu minority in Bangladesh. The Bangladesh government, sensitive to the political cost of ignoring Muslim opinion, confiscated her passport and banned the book. The clerics issued a fatwa against her with some of them even demanding her execution.
The authorities in Bangladesh also gave her a stark choice: stop writing if she wants to retain her job as a doctor in the Dhaka Medical College and Hospital. The bold woman she is, she chose writing.
Recurrent threats to her life forced her to leave Bangladesh for Europe, where she wrote 28 books of poetry, essays and novels, before she moved to her beloved city Kolkata in 2004. Her poems and novels were translated into more than 25 different foreign languages.
Eventually, a million-dollar question raises in all of us mind as to when "The Author" will be considered a legitimate citizen of our country and thus, will be treated moderately.