School children to take oath for heritage preservation
New Delhi, Mon, 19 Nov 2007
NI Wire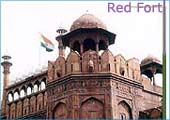 Nov 19: Ministry of Tourism and Culture ropes in school children for heritage preservation in an unprecedented move.
In one of the innovative initiative, the Union Ministry of Culture has decided to bring school children in its mission to save the cultural symbols of the country from vandalisation. The National Mission on Monuments and Antiquities is directed to take steps in creating awareness regarding this new plan.
According to a Ministry of Tourism and Culture release, "A symbolic beginning is being made this year itself with school children of Delhi taking the oath at Red Fort, Delhi on 19th November, 2007. World Heritage Week is celebrated from 19th to 25th November every year to create awareness about the rich cultural heritage of the country among the general public, students and children."
As per the plan school children have to take an oath on November 19 every year to save their national heritage and this certainly a symbolic gesture which shows great inventiveness in safeguarding national heritage by proliferating values of our rich cultural heritage among our students, the future of the country.
The ministry has requested school authorities to arrange an oath taking ceremony and also if possible to take students to any of the historical monuments of their neighbourhood during the World Heritage Week.
The oath reads as "I will not scribble on, deface or encroach upon any monument; I will respect all monuments, which are a part of my country's heritage; I will render all possible help to conserve and preserve our heritage."