SC directs Orissa govt to file affidavit on violence
New Delhi, Wed, 03 Sep 2008
NI Wire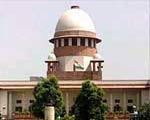 A day after allowing the petition of Archbishop of Cuttack seeking CBI probe in the violence carried out against Christians in Orissa, the Supreme Court has asked the Naveen Patnayak government to file an affidavit by September 4 explaining the circumstances under which it allowed VHP leader Praveen Togadia to carry out a procession with the ash of slain leader Swami Laxmanananda.
The Bench headed by Chief Justice K G Balakrishnan also sought to get surety that such permission would not lead to more violence against the Christians in the state. The Bench also asked the Orissa government to give all details it had taken to curb bloodshed and protect lives and property of the people in the state, particularly Christians, which have been the target of communal violence.
The Archbishop of Cuttack in its appeal before the single-judge Bench of Chief Justice K G Balakrishnan on Tuesday (Sep 02) had demanded the probe in the Orissa violence against the Christians to be carried out by the Central Bureau of Investigation (CBI) and a compensation of Rs 4 lakh should be given to each of the families of those killed.
The Archbishop also pleaded the Apex Court to direct the Human Right Commission to unearth the organisation's hand behind the violence in Kandhamal.
After hearing the case, the Bench comprising Chief Justice K G Balakrishnan, Justice P Sathasivam and Justice J M Panchal directed the Orissa government to file affidavit, and adjourned the hearing till tomorrow.
Earlier, the petitioner Archbishop's counsel, Gonsalves referring yesterday's violence after the matter was taken to the court sought immediate stop on the yatra. He expressed doubt over the yatra that would generate fresh trouble in the state already reeling under fear and intimidation.
Additional Solicitor General Gopal Subramaniam submitted that the Centre is keeping a close watch on the situation and the Home Minister along with a delegation headed by Home Minister Shivraj Patil has left for Orissa this morning to assess the situation. Mr. Subramaniam sought the state government to ensure the court that para-military forces were fully deployed in the trouble-torn areas.
The petitioner's counsel alleged that central forces were deployed in the urban areas only instead of riot-hit villages and remote areas.
Meanwhile, VHP today said that it would go ahead with the proposed yatra to be carried in all villages of the state on September 7 carrying the ash of slain leader Swami Laxmanananda Saraswati from his mausoleum at Chakapada Ashram in Kandhamal district.
The VHP leader also said they need no permission either from the state government or any other authority.